The Essential Guide to the UK's Naval Forces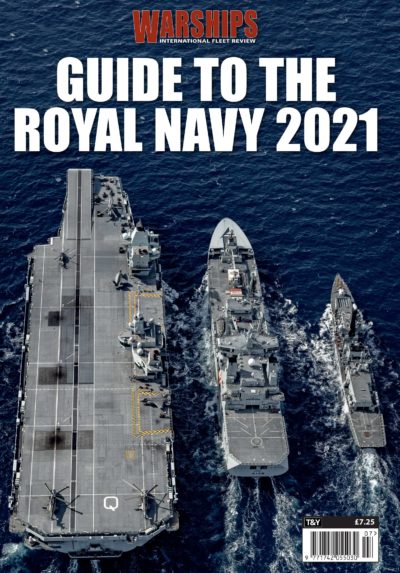 Presenting its customary mix of ship type and unit profiles, along with high impact imagery, features, commentaries plus analysis, the forthcoming new edition of the 'WARSHIPS IFR Guide to the Royal Navy' provides a vivid portrait of the British fleet in a time of great change.
68 pages, softback | Price £7.25
On Sale in the UK NOW!
Please find below a list of stores in the UK that should be stocking the Guide to the Royal Navy 2021. If you can't see it on the shelf, please ask the store.

You can also order it direct from us – click here to go to the order page.
The list is sorted in alphabetical order under the postcode. Unfortunately we have not been given full addresses, but hope that the following will help.
For a list of stockists in Germany, Norway, Sweden and the USA CLICK HERE
NB: Whilst we believe this list to be correct we apologise for any errors or omissions.

| | | |
| --- | --- | --- |
| Retail Group | Retail Outlet Name | Post Code |
| W H SMITH HIGH ST | WHS HS STORES ABERDEEN ST NICHOLAS CENTRE | AB10 1HW |
| INDEPENDENT | WALDIE LTD | AB39 2EQ |
| INDEPENDENT | FRENCH & SON | AB41 7DT |
| INDEPENDENT | SANDHAVEN STORES | AB43 7EQ |
| INDEPENDENT | CENTRAL FILL STN | AB53 4BN |
| LONDIS | J & MRS D AMIN | AL7 4JU |
| W H SMITH HIGH ST | WHS HS STORES WELWYN GARDEN CITY HOWARD CENTRE | AL8 6HA |
| LONDIS | S V G FOOD & WINE | AL9 7DY |
| LONDIS | LONDIS KINGS HEATH | B13 0QS |
| COSTCUTTER | WEYMOOR PO | B17 0TG |
| MACE | MR G PATEL | B18 6NA |
| W H SMITH HIGH ST | WHS HS STORES BIRMINGHAM UNION ST | B2 4LR |
| W H SMITH HIGH ST | WHS HS STORES BIRMINGHAM FORT PARKWAY | B24 9FP |
| W H SMITH TRAVEL | WHS TRAVEL AIRPORTS BIRMINGHAM AIRPORT T1 AIRSIDE | B26 3QJ |
| COSTCUTTER | BAINS NEWS | B29 5QH |
| MACE | MACE EVESHAM ROAD | B49 5DW |
| MACE | MACE ALCESTER ROAD | B60 1JT |
| W H SMITH HIGH ST | WHS HS STORES HALESOWEN HAGLEY ST | B63 3AT |
| MACE | SAJID M | B64 6HU |
| MACE | MACE BIRMINGHAM STREET | B69 4DY |
| W H SMITH HIGH ST | WHS HS STORES SUTTON COLDFIELD THE PARADE | B72 1PH |
| W H SMITH HIGH ST | WHS HS STORES TAMWORTH VENTURA RETAIL PARK | B78 3JD |
| W H SMITH HIGH ST | WHS HS STORES SOLIHULL MELL SQUARE | B91 3AZ |
| W H SMITH HIGH ST | WHS HS STORES REDDITCH NEW WALK | B97 4YP |
| W H SMITH HIGH ST | WHS HS STORES BATH UNION ST | BA1 1RW |
| BUDGEN | LONDIS WEST END | BA10 0BQ |
| INDEPENDENT | CHURCH BRIDGE STORES BRUT | BA10 0EQ |
| W H SMITH HIGH ST | WHS HS STORES FROME THE BRIDGE | BA11 1AR |
| COSTCUTTER | MACE BOAR STREET | BA12 6DD |
| W H SMITH HIGH ST | WHS HS STORES YEOVIL MIDDLE STREET | BA20 1LZ |
| SPAR NEWS GROUP | MACE WEST COKER ROAD | BA20 2LZ |
| INDEPENDENT | LESLEYS BOOKS & NEWS | BB1 6AF |
| W H SMITH HIGH ST | WHS HS STORES ACCRINGTON CORNHILL | BB5 1EX |
| INDEPENDENT | BANANA NEWS | BB7 2BX |
| W H SMITH HIGH ST | WHS HS STORES BRADFORD DARLEY MALL | BD1 1QP |
| W H SMITH HIGH ST | WHS HS STORES BOURNEMOUTH | BH1 1DY |
| MACE | MACE COLUMBIA ROAD | BH10 4ED |
| W H SMITH HIGH ST | WHS HS STORES POOLE FALKLAND SQUARE | BH15 1ER |
| COSTCUTTER | COSTCUTTER BOVINGTON | BH20 6LB |
| LONDIS | LONDIS ST CATHERINES HILL | BH23 2RR |
| MACE | STANFORD NEWS | BH23 8NJ |
| MACE | MACE BASHLEY ROAD | BH25 5RX |
| W H SMITH HIGH ST | WHS HS STORES BOURNEMOUTH CASTLEPOINT CENTRE | BH8 9UZ |
| COSTCUTTER | LONDIS GROSVENOR STR | BL0 9UT |
| INDEPENDENT | MERCURY NEWS LTD | BL1 1NE |
| W H SMITH HIGH ST | WHS HS STORES BOLTON VICTORIA SQUARE | BL1 1RJ |
| W H SMITH HIGH ST | WHS HS STORES BURY THE HAYMARKET | BL9 0BX |
| W H SMITH HIGH ST | WHS HS STORES BRIGHTON CHURCHILL SQUARE | BN1 2TA |
| INDEPENDENT | ANNEXE STORES | BN10 8BT |
| W H SMITH HIGH ST | WHS HS STORES WORTHING SOUTH ST | BN11 3AP |
| INDEPENDENT | T/A SEAVIEW STORES | BN16 1NN |
| W H SMITH HIGH ST | WHS HS STORES EASTBOURNE TERMINUS RD | BN21 3AL |
| INDEPENDENT | Paperlane | BN22 9NH |
| INDEPENDENT | 3 STATION APPROACH | BN25 2AS |
| W H SMITH HIGH ST | WHS HS STORES BROMLEY HIGH ST | BR1 3EZ |
| INDEPENDENT | V & B NEWS | BR4 0NJ |
| W H SMITH HIGH ST | WHS HS STORES BRISTOL GALLERIES SHOPPING CENTRE | BS1 3XB |
| INDEPENDENT | KINGS HEADLINES | BS13 7BW |
| W H SMITH HIGH ST | WHS HS STORES WESTON SUPER MARE HIGH ST | BS23 1HD |
| W H SMITH HIGH ST | WHS HS STORES BRISTOL THE MALL | BS34 5GG |
| W H SMITH TRAVEL | WHS TRAVEL BRISTOL AIRPORT | BS48 3DY |
| INDEPENDENT | SPAR FOODLINER | BT19 6JR |
| INDEPENDENT | 2A FRANCIS STREET | BT23 4JA |
| MACE | MACE KLINCHY ROAD | BT23 5NE |
| INDEPENDENT | MAIN STREET | BT24 7AA |
| W H SMITH TRAVEL | WHS TRAVEL AIRPORTS BELFAST INTERNATIONAL | BT29 4AB |
| COSTCUTTER | MR A R STEWART | BT29 4SW |
| INDEPENDENT | 12 MARKET ST | BT30 6LZ |
| SPAR NEWS GROUP | CAMPBELL | BT32 4JP |
| INDEPENDENT | THE PAPER SHOP | BT39 0BB |
| INDEPENDENT | COSTCUTTER | BT39 9AG |
| INDEPENDENT | APSLEYS | BT40 1JQ |
| INDEPENDENT | PAUL & GERALDINE MARTIN | BT41 3SL |
| INDEPENDENT | COSTCUTTER | BT43 5JH |
| MACE | MACE BALLYMONEY  ST | BT43 6AL |
| INDEPENDENT | CAMERONS STORES | BT43 6ED |
| COSTCUTTER | COSTCUTTER | BT44 8AB |
| COSTCUTTER | MR DENNIS MOORE COSTCUTTER | BT44 9LF |
| COSTCUTTER | CLARES PANTRY | BT45 5PP |
| MACE | MACE BANK SQUARE | BT46 5AE |
| INDEPENDENT | MAGHERMASON SERVICE ST | BT47 2RR |
| INDEPENDENT | MCLISTER | BT54 6AA |
| COSTCUTTER | MOUTRAY | BT66 7EG |
| MACE | MACE PORTADOWN RD | BT66 8QW |
| INDEPENDENT | MACE DROMORE ROAD | BT78 1LA |
| INDEPENDENT | MACE NEWTON PARK | BT8 6LX |
| INDEPENDENT | BORDER SERVICE STATION | BT82 8EP |
| COSTCUTTER | A MILLAR RETAILING LTD | BT92 0JE |
| MACE | M6 DIESEL F COURT JCT 38 | CA10 3SS |
| INDEPENDENT | NG & L DENT | CA16 6XB |
| INDEPENDENT | MMRG NEIGHBOURHOOD CONV/VILL CUMBRIA SOUTH PARADE | CA20 1PZ |
| W H SMITH HIGH ST | WHS HS STORES CARLISLE ENGLISH ST | CA3 8JY |
| W H SMITH HIGH ST | WHS HS STORES CAMBRIDGE MARKET STREET | CB2 3PE |
| COSTCUTTER | COSTCUTTER | CB6 2SX |
| W H SMITH HIGH ST | WHS HS STORES CARDIFF QUEEN ST | CF10 2BE |
| INDEPENDENT | 37-39 WELLS STREET | CF11 6DX |
| W H SMITH TRAVEL | WHS TRAVEL UNIVERSITY HOSPITAL OF WALES | CF14 4XW |
| INDEPENDENT | ALBANY ROAD POST OFFICE | CF24 3YX |
| W H SMITH HIGH ST | WHS HS STORES BRIDGEND | CF31 3BL |
| INDEPENDENT | SPENCER ROAD | CF35 6BA |
| COSTCUTTER | COSTCUTTER LTD | CF41 7NA |
| W H SMITH HIGH ST | WHS HS STORES BARRY HOLTON RD | CF63 4HH |
| W H SMITH HIGH ST | WHS HS STORES PENARTH WINDSOR RD | CF64 1YF |
| W H SMITH HIGH ST | WHS HS STORES CHESTER FOREGATE ST | CH1 1HH |
| INDEPENDENT | 3 DUKE STREET | CH41 8EP |
| INDEPENDENT | Mr A J Raynor & Miss C T Dudle | CH45 4NE |
| INDEPENDENT | WIRRAL MERSEYSIDE | CH46 6DE |
| INDEPENDENT | NEWSMAG | CH47 2AB |
| INDEPENDENT | THE WAVERLEY (WEST KIRBY) LTD | CH48 0RE |
| INDEPENDENT | 311 PENSBY ROAD | CH61 9ND |
| INDEPENDENT | 84 BEBINGTON ROAD | CH62 5BJ |
| INDEPENDENT | BROMBOROUGH POST OFFICE | CH62 7HA |
| W H SMITH HIGH ST | WHS HS STORES MOLD HIGH ST | CH7 1AZ |
| INDEPENDENT | F & J Newscentre Ltd | CH7 2JA |
| LONDIS | LONDIS PONTBLYDDYN | CH7 4HL |
| COSTCUTTER | HILLCREST MOTOR CO LTD | CH8 7SJ |
| INDEPENDENT (ROI) | 55 NORTH MAIN ST | CI1 0RI |
| INDEPENDENT (ROI) | BOOK-CENTRE KILKENNY (Y597) | CI12 0RI |
| MACE | BOGGAN WEXFORD  (Y817) | CI21 6RI |
| INDEPENDENT (ROI) | OCONNOR KILLARNEY LTD | CI23 1RI |
| INDEPENDENT (ROI) | ANNE MACS CASTLEISLD (P553) | CI23 9RI |
| LONDIS (ROI) | QUINLAN DOORADOYLE (Y151) | CI26 0RI |
| INDEPENDENT (ROI) | CLERYS NEWSAGENT | CI29 4RI |
| INDEPENDENT (ROI) | BOOK-CENTRE WATERFOR (Y476) | CI32 0RI |
| MACE (ROI) | WHELANS KILRUSH  (T931) | CI8 0RI |
| W H SMITH HIGH ST | WHS HS STORES CHELMSFORD HIGH ST | CM1 1EJ |
| INDEPENDENT | SMOKERS PARADISE | CM12 9AJ |
| MACE | MACE THE PINNACLES | CM19 5AR |
| W H SMITH HIGH ST | WHS HS STORES HARLOW BROADWALK | CM20 1JD |
| LONDIS | LONDIS BREWERS END | CM22 6SH |
| INDEPENDENT | 66 IMPERIAL AVENUE | CM3 6AH |
| LONDIS | LONDIS MAYLANDS GARAGE | CM3 6BB |
| LONDIS | LONDIS STATION ROAD | CM6 3DG |
| W H SMITH HIGH ST | WHS HS STORES BRAINTREE GEORGE YARD | CM7 1RB |
| W H SMITH HIGH ST | WHS HS STORES COLCHESTER CULVER WALK | CO1 1DF |
| INDEPENDENT | 206 HIGH STREET | CO12 3AJ |
| LONDIS | BHAVANI GENERAL STORES | CO5 9AG |
| W H SMITH HIGH ST | WHS HS STORES CROYDON NORTH END | CR0 1UB |
| LONDIS | MR N AHMED & T KHAN NAVEED & CO LTD | CR4 1RB |
| LONDIS | JALARAM POST OFFICE | CR4 4JX |
| LONDIS | COULSDON NEWS | CR5 2NB |
| LONDIS | SPRING LANE | CT1 1RY |
| W H SMITH HIGH ST | WHS HS STORES CANTERBURY ST GEORGE ST | CT1 2LB |
| W H SMITH HIGH ST | WHS HS STORES W WOOD MARGATE ROAD | CT10 2BS |
| INDEPENDENT | tonis news | CT11 8NP |
| W H SMITH HIGH ST | WHS HS STORES DEAL HIGH ST | CT14 6EL |
| W H SMITH HIGH ST | WHS HS STORES DOVER BIGGIN ST | CT16 1DB |
| LONDIS | LONDIS CP | CT16 1NX |
| W H SMITH TRAVEL | WHS TRAVEL EUROTUNNEL | CT18 8XX |
| INDEPENDENT | ROCHEFORT O&W  NFB | CT19 4EY |
| LONDIS | LONDIS BLEAN | CT2 9HP |
| W H SMITH HIGH ST | WHS FOLKSTONE | CT20 1TU |
| LONDIS | LONDIS ASH | CT3 2HH |
| INDEPENDENT | HARBOUR NEWS | CT5 1AH |
| INDEPENDENT | Willis | CT5 2LX |
| INDEPENDENT | SPEARING | CT6 5EB |
| LONDIS | LONDIS HERNE BAY | CT6 6PL |
| W H SMITH HIGH ST | WHS HS STORES COVENTRY SMITHFIELD WAY | CV1 1QX |
| W H SMITH HIGH ST | WHS HS STORES NUNEATON QUEENS RD | CV11 5JW |
| LONDIS | LONDIS RUGBY | CV23 9LY |
| W H SMITH HIGH ST | WHS HS STORES LEAMINGTON SPA | CV32 4DD |
| W H SMITH HIGH ST | WHS HS STORES STRATFORD UPON AVON HIGH ST | CV37 6AU |
| COSTCUTTER | PALMER MR N | CW5 8EW |
| W H SMITH HIGH ST | WHS HS STORES NORTHWICH WITTON ST | CW9 5AJ |
| LONDIS | HELENS | DA1 1XE |
| W H SMITH HIGH ST | WHS HS STORES GRAVESEND ST GEORGE CENTRE | DA11 0TA |
| INDEPENDENT | LONDIS BLACKFEN ROAD | DA15 9LU |
| INDEPENDENT | NEWSCENTRE | DA17 5JE |
| W H SMITH HIGH ST | WHS HS STORES BEXLEYHEATH THE BROADWAY | DA6 7JN |
| W H SMITH HIGH ST | WHS HS STORES GREENHITHE | DA9 9SH |
| INDEPENDENT | CASTLEHILL NEWSAGENT | DD1 3AF |
| W H SMITH HIGH ST | WHS HS STORES ARBROATH HIGH ST | DD11 1HY |
| INDEPENDENT | 100 HIGH STREET | DD7 6AE |
| INDEPENDENT | CARNOUSTIE FOOD STORE | DD7 7NY |
| W H SMITH HIGH ST | WHS HS STORES DERBY EAGLE CENTRE | DE1 2NP |
| W H SMITH TRAVEL | WHS TRAVEL DERBY RAIL | DE1 2RU |
| W H SMITH HIGH ST | WHS HS STORES BURTON ON TRENT UNDERHILL WALK | DE14 1DE |
| INDEPENDENT | 226 HORNINGLOW ROAD | DE14 2PZ |
| INDEPENDENT | CTD NEWS | DE22 2GP |
| INDEPENDENT | POYNTONS PASTIMES | DE22 2QN |
| INDEPENDENT | 22 WESTERN ROAD | DE3 9GN |
| LONDIS | ST MICHAELS SERVICES | DG1 2QD |
| W H SMITH HIGH ST | WHS HS STORES DUMFRIES HIGH ST | DG1 2QT |
| INDEPENDENT | COSTCUTTER           K 16 | DG16 5AQ |
| INDEPENDENT | SMART | DG7 1LU |
| LONDIS | ST MICHAELS SERVICES LTD | DG8 6JZ |
| W H SMITH HIGH ST | WHS HS STORES DURHAM MARKET PLACE | DH1 3NJ |
| MACE | TEXACO PMARNOCK S/S (E823) | DI10 9RI |
| LONDIS (ROI) | KCR STORES | DI18 5RI |
| LONDIS (ROI) | ST JAMES HOSPITAL (K227) | DI18 7RI |
| INDEPENDENT (ROI) | CENTREPOINT STORES LTD | DI19 2RI |
| INDEPENDENT (ROI) | SHOP/CTR RATHANGAN ROAD | DI38 8RI |
| MACE | HOGAN F/S VIVO LAOIS (B710) | DI42 1RI |
| INDEPENDENT (ROI) | BALLYMAHON STREET | DI48 7RI |
| INDEPENDENT (ROI) | EASON ROSCOMMON (H076) | DI75 3RI |
| LONDIS (ROI) | STATOIL ATHLONE (E832) | DI82 0RI |
| INDEPENDENT (ROI) | OFFICE SUPP.MULLINGR (J070) | DI84 5RI |
| INDEPENDENT (ROI) | 21 WEXFORD ROAD | DI88 0RI |
| W H SMITH HIGH ST | WHS HS STORES DARLINGTON CORNMILL CENTRE | DL1 1NH |
| INDEPENDENT | GILLIGAN | DL13 5AA |
| LONDIS | WILLINGTON POST OFFICE | DL15 0PE |
| LONDIS | HILLS NEWS LONDIS | DL2 1EG |
| COSTCUTTER | COSTCUTTER BLACKWELL PO STORE | DL3 8QN |
| INDEPENDENT | WILLOUGHBY | DL7 8PP |
| W H SMITH HIGH ST | WHS HS STORES DONCASTER WEST MALL | DN1 1ST |
| MACE | MACE TICKHILL GARAGE | DN11 9QP |
| INDEPENDENT | R&P CHAPPLOW | DN14 7BJ |
| W H SMITH HIGH ST | WHS HS STORES SCUNTHORPE HIGH ST | DN15 6SB |
| LONDIS | LONDIS FERRIBY ROAD | DN18 5LE |
| W H SMITH HIGH ST | WHS HS STORES EAST RETFORD | DN22 6DY |
| INDEPENDENT | SISTERNS MAGAZINE WORLD Y1 | DN31 1EW |
| INDEPENDENT | WILLIAMS STORES | DN35 8HF |
| INDEPENDENT | LITTLEFIELD LANE | DN36 5TJ |
| COSTCUTTER | LINDHOLME STORES LTD | DN4 6JG |
| W H SMITH HIGH ST | WHS HS STORES DORCHESTER SOUTH ST | DT1 1BL |
| LONDIS | LONDIS MILTON ROAD | DT11 0JZ |
| COSTCUTTER | MACE PRESTON ROAD | DT3 6PU |
| W H SMITH HIGH ST | WHS HS STORES WEYMOUTH ST MARY ST | DT4 8NY |
| LONDIS | LONDIS BEAMINSTER | DT8 3BX |
| LONDIS | GWILYM BUTLER BUTLER ENTERPRISES LTD | DY14 8BY |
| LONDIS | FOREST STORES | DY14 9TF |
| LONDIS | SINGH & SONS STORE | DY4 0HP |
| LONDIS | SUKHDEV & STEPHE | DY5 1QX |
| W H SMITH HIGH ST | WHS HS STORES STOURBRIDGE RYEMARKET | DY8 1HJ |
| W H SMITH HIGH ST | WHS HS STORES LONDON HOLBORN CIRCUS | EC1N 2TD |
| W H SMITH TRAVEL | WHS TRAVEL MAINLINE LONDON LIVERPOOL ST EAST SHOP EC2M | EC2M 7QA |
| INDEPENDENT | THE LATEST NEWS LTD | EH1 2DJ |
| W H SMITH TRAVEL | WHS TRAVEL AIRPORT EDINBURGH AIRSIDE 1 | EH12 9DN |
| W H SMITH HIGH ST | WHS HS STORES EDINBURGH GYLE AVENUE | EH12 9JT |
| W H SMITH HIGH ST | WHS HS STORES EDINBURGH CAMERON TOLL | EH16 5PE |
| INDEPENDENT | BONNY NEWS | EH19 2DB |
| INDEPENDENT | 62 EAST MAIN STREET | EH52 5EF |
| W H SMITH HIGH ST | WHS HS STORES LIVINGSTON ALMONDVALE CENTRE | EH54 6NB |
| MACE | MACE STANSTED ROAD | EN11 0RL |
| LONDIS | LONDIS HODDESDON | EN11 9QP |
| W H SMITH HIGH ST | WHS HS STORES ENFIELD PALACE GARDEN PRECINCT | EN2 6SN |
| W H SMITH HIGH ST | WHS HS STORES BARNSTAPLE HIGH ST | EX31 1HX |
| LONDIS | LONDIS BIDEFORD | EX39 2PF |
| W H SMITH HIGH ST | WHS HS STORES EXETER THE GUILDHALL | EX4 3NJ |
| W H SMITH HIGH ST | WHS HS STORES STIRLING THISTLE CENTRE | FK8 2EE |
| INDEPENDENT | GRASMERE NEWS | FY1 5HR |
| INDEPENDENT | CARLETON NEWS | FY6 7NH |
| INDEPENDENT | EFTY LTD | G13 4HT |
| W H SMITH HIGH ST | WHS HS STORES GLASGOW SAUCHIEHALL ST | G2 3ER |
| W H SMITH HIGH ST | WHS HS STORES GLASGOW ARGYLE ST | G2 8AH |
| INDEPENDENT | 2173 PAISLEY ROAD WEST | G52 3PF |
| INDEPENDENT | BAXTER NEWSAGENTS | G62 6BL |
| W H SMITH HIGH ST | WHS HS STORES KIRKINTILLOCH COWGATE | G66 1HN |
| LONDIS | NEWTON MEARNS PETROL STATION | G77 5EU |
| INDEPENDENT | MACE BUMBARTON | G82 2RB |
| INDEPENDENT | KEY STORE | G83 8LQ |
| INDEPENDENT | LOCH LOMOND NEWS LTD | G83 8QL |
| INDEPENDENT | GARELOCHHEAD POST OFFICE | G84 0AH |
| W H SMITH HIGH ST | WHS HS STORES HELENSBURGH SINCLAIR ST | G84 8SR |
| W H SMITH HIGH ST | WHS HS STORES GLOUCESTER EASTGATE ST | GL1 1NZ |
| INDEPENDENT | COSTCUTTER CHARFIELD AVON ROAD | GL12 8TT |
| MACE | YORKLEY POST OFFICE | GL15 4TA |
| MACE | MACE MARKET PLACE | GL16 8AW |
| LONDIS | PA CJ AJ HALL  54 | GL19 3BU |
| W H SMITH HIGH ST | WHS HS STORES TEWKESBURY HIGH ST | GL20 5AH |
| INDEPENDENT | WOODCHESTER VILLAGE SHOP | GL5 5NQ |
| W H SMITH HIGH ST | WHS HS STORES CHELTENHAM HIGH ST | GL50 1EP |
| LONDIS | N SANDHU 538 7 | GL7 3AP |
| LONDIS | OXRING LTD | GL7 4AH |
| W H SMITH HIGH ST | WHS HS STORES GUILDFORD HIGH ST | GU1 3ES |
| W H SMITH HIGH ST | WHS HS STORES FARROUGH PRINCES MEAD | GU14 6YA |
| W H SMITH HIGH ST | WHS HS STORES WOKING COMMERCIAL WAY | GU21 6XX |
| BUDGEN | HERMITAGE NEWS | GU21 8UX |
| W H SMITH HIGH ST | WHS HS STORES PETERSFIELD RAMS WALK | GU32 3JA |
| INDEPENDENT | PORTERS NEWS | GU34 1AB |
| INDEPENDENT | HOLYBOURNE SHOP | GU34 4ES |
| LONDIS | 76-78 HIGH STREET | GU47 8ED |
| LONDIS | DHIRENDRA AMIN | GU52 6ED |
| W H SMITH HIGH ST | WHS HS STORES GODALMING HIGH ST | GU7 1DU |
| GUERNSEY | H LE GALLEZ GUERNSEY | GY1 1YP |
| INDEPENDENT | MACE WEST END ROAD | HA4 6LS |
| W H SMITH HIGH ST | WHS HS STORES HUDDERSFIELD THE SHAMBLES | HD1 2QJ |
| INDEPENDENT | KITSON NEWS | HD6 1AF |
| INDEPENDENT | PAPER SHOP | HD7 6BR |
| W H SMITH HIGH ST | WHS HS STORES HARROGATE VICTORIA SHOPPING CENTRE | HG1 1TU |
| INDEPENDENT | NEWS & CO | HG1 1UE |
| W H SMITH HIGH ST | WHS HS STORES HEMEL HEMPSTEAD THE MARLOWES | HP1 1BD |
| W H SMITH HIGH ST | WHS HS STORES HIGH WYCOMBE HIGH ST | HP11 2AR |
| LONDIS | MR RAJESH PATEL | HP17 8LG |
| LONDIS | LONDIS AYLESBURY | HP18 0SL |
| COSTCUTTER | MACE BICESTER ROAD | HP19 8AL |
| W H SMITH HIGH ST | WHS HS STORES AYLESBURY HIGH ST | HP20 1SH |
| LONDIS | MR K SHIVAGNANAM | HP21 7HQ |
| COSTCUTTER | COSTCUTTER LTD | HP3 0HP |
| LONDIS | MR N ODEDRA | HP4 1PA |
| INDEPENDENT | C R NEWS | HR1 2BD |
| W H SMITH HIGH ST | WHS HS STORES HEREFORD HIGH TOWN | HR1 2DJ |
| LONDIS | M WARGEN 336 7 | HR1 4NN |
| LONDIS | POWELL | HR2 9AS |
| COSTCUTTER | THE OLD SCHOOL SHOP | HR4 8SB |
| MACE | MACE HIGH STREET | HR8 1DS |
| W H SMITH TRAVEL | WHS TRAVEL HULL RAIL | HU1 3QX |
| COSTCUTTER | WILLIE R AND SON | HU12 9AX |
| INDEPENDENT | HALLGATE IND | HU16 4BB |
| COSTCUTTER | COSTCUTTER | HU17 5LS |
| W H SMITH HIGH ST | WHS HS STORES BEVERLEY TOLL GAVEL | HU17 9AA |
| W H SMITH HIGH ST | WHS HS STORES HULL PROSPECT CENTRE | HU2 8PN |
| LONDIS | RUSSELL K I | HU6 0AA |
| INDEPENDENT | MARFLEET LANE POST OFFICE | HU9 5AQ |
| INDEPENDENT | WATERHOUSES | HX1 1DZ |
| W H SMITH HIGH ST | WHS HS STORES HALIFAX MARKET ST | HX1 1PB |
| ISLE OF MAN | WHITE DOUGLAS  I O M | IM1 2EJ |
| W H SMITH HIGH ST | WHS HS STORES IPSWICH WESTGATE ST | IP1 3EG |
| W H SMITH HIGH ST | WHS HS STORES FELIXSTOWE HAMILTON RD | IP11 7AJ |
| W H SMITH HIGH ST | WHS HS STORES WOODBRIDGE SUFFOLK | IP12 1AQ |
| INDEPENDENT | PATEL BROS | IP12 1JX |
| LONDIS | BACTON STORES | IP14 4LG |
| INDEPENDENT | SUFFOLK RETAIL LTD | IP15 5AQ |
| LONDIS | SMITH & WESBY LTD | IP17 3PW |
| INDEPENDENT | D C PATRICK | IP19 8AY |
| COSTCUTTER | MACE NEW STREET | IP21 5PG |
| MACE | MACE MUDFORD ROAD | IP24 1NB |
| MACE | MACE AEROLITE GARAGE | IP25 6JB |
| LONDIS | LONDIS NORFOLK | IP26 4AF |
| LONDIS | FINEVALE S STN | IP27 0ER |
| MACE | B & J A WARREN | IP28 7HZ |
| MACE | MACE STATION ROAD | IP30 9HD |
| MACE | MACE BURY ROAD | IP31 2BZ |
| LONDIS | BADWELL ASH P O  STO | IP31 3DG |
| W H SMITH HIGH ST | WHS HS STORES BURY ST EDMONDS CORNHILL | IP33 1DY |
| W H SMITH TRAVEL | WHS TRAVEL WEST SUFFOLK HOSPITAL | IP33 2QZ |
| W H SMITH HIGH ST | WHS HS STORES INVERNESS HIGH ST | IV1 1HT |
| INDEPENDENT | STRACHANS NEWSAGENTS LTD | IV12 4BJ |
| INDEPENDENT | CALDWELL | KA28 0AN |
| W H SMITH HIGH ST | WHS HS STORES LARGS MAIN ST | KA30 8AL |
| W H SMITH HIGH ST | WHS HS STORES AYR HIGH ST | KA7 1RH |
| W H SMITH HIGH ST | WHS HS STORES KINGTON UPON THAMES BENTALLS CENTRE | KT1 1TR |
| COSTCUTTER | FARRANTS | KT11 3DH |
| W H SMITH HIGH ST | WHS HS STORES EPSOM ASHLEY CENTRE | KT18 5DB |
| LONDIS | YV & KV PATEL | KT9 1DR |
| INDEPENDENT | RAFFLE | KW14 7AA |
| INDEPENDENT | SPAR ST MONANS | KY10 2BS |
| INDEPENDENT | PITTENWEEM PHARMACY | KY10 2PH |
| W H SMITH HIGH ST | WHS HS STORES DUNFERMLINE HIGH ST | KY12 7DR |
| INDEPENDENT | JACKS NEWSAGENTS | KY3 0SW |
| INDEPENDENT | MANIS WEE SHOP | KY4 9SE |
| W H SMITH HIGH ST | WHS HS STORES GLENROTHES UNICORN WAY | KY7 5NU |
| W H SMITH TRAVEL | WHS TRAVEL LIVERPOOL LIME ST | L1 1JD |
| W H SMITH HIGH ST | WHS HS STORES LIVERPOOL SOUTH JOHN STREET | L1 8BN |
| W H SMITH TRAVEL | WHS TRAVEL JOHN LENNON AIRPORT (AIRSIDE) | L24 1YS |
| W H SMITH HIGH ST | WHS HS STORES LIVERPOOL SPEKE ROAD | L24 8QB |
| W H SMITH HIGH ST | WHS HS STORES LANCASTER MARKET ST | LA1 1HZ |
| INDEPENDENT | SALMONS NEWSAGENTS | LA12 7LQ |
| COSTCUTTER | NEWBY BRIDGE GARAGE     16 | LA12 8ND |
| W H SMITH HIGH ST | WHS HS STORES BARROW IN FURNESS PORTLAND WALK | LA14 1DB |
| LONDIS | BULLOUGHS NEWSAGENTS   1 | LA5 0HF |
| LONDIS | ATFIELD                 1 | LA8 8ND |
| COSTCUTTER | HALLS OF KNIGHTON | LD7 1BL |
| W H SMITH HIGH ST | WHS HS STORES LEICESTER GALLOWTREE GATE | LE1 5GD |
| W H SMITH HIGH ST | WHS HS STORES LOUGHBOROUGH CARILLION COURT | LE11 3XA |
| LONDIS | MR & MRSDESAI | LE11 5LR |
| MACE | MACE FIELD STREET | LE12 9AL |
| INDEPENDENT | 6 HIGH STREET | LE17 6LH |
| W H SMITH HIGH ST | WHS HS STORES LEICESTER FOSSE PARK | LE19 1HJ |
| INDEPENDENT | WILSON & SONS | LE6 0GG |
| LONDIS | MOFAT PATEL MARKFIELD POST OFFICE | LE67 9WU |
| INDEPENDENT | NORTHCLIFFE RETAIL LTD | LE9 1RE |
| MACE | MACE STATION ROAD | LE9 6PW |
| LONDIS | LONDIS BARWELL | LE9 8FR |
| INDEPENDENT | AARCO 33 LTD  BRIDGE SVCE | LL15 1NB |
| INDEPENDENT | 46 WELLINGTON ROAD | LL18 1BN |
| INDEPENDENT | THE PAPERSHOP | LL19 9BW |
| INDEPENDENT | PATEL CORNER STORE | LL22 7AA |
| LONDIS | Y EHULAM | LL26 0PP |
| INDEPENDENT | RHOS NEWSAGENTS | LL28 4PP |
| W H SMITH HIGH ST | WHS HS STORES LLANDUDNO MOSTYN ST | LL30 2NY |
| INDEPENDENT | GH EDWARDS CONVENIENCE STORE | LL32 8DA |
| INDEPENDENT | LONDIS PWLLHELI | LL53 7TH |
| LONDIS | GWALIA GARAGE | LL55 2SS |
| COSTCUTTER | SHOKER LTD | LL55 3NF |
| INDEPENDENT | Ena's Beaumaris | LL58 8AP |
| W H SMITH HIGH ST | WHS HS STORES LINCOLN THE CORNHILL | LN5 7HE |
| LONDIS | MR G G STEEL | LN8 2AS |
| MACE | MACE BOSTON ROAD | LN9 6HU |
| W H SMITH HIGH ST | WHS HS STORES LEEDS | LS1 6AW |
| INDEPENDENT | LALLY | LS10 2DJ |
| W H SMITH HIGH ST | WHS HS STORES LEEDS SOUTH MALL | LS11 8LL |
| INDEPENDENT | PATEL | LS13 4JB |
| INDEPENDENT | 2 MANSTON APPROACH | LS15 8BQ |
| INDEPENDENT | TAYLORS NEWS | LS15 8PB |
| INDEPENDENT | MOUNSEYS NEWS | LS21 3AF |
| INDEPENDENT | STEVENS NEWS | LS22 6NE |
| INDEPENDENT | UNIT 69-70 MORLEY MKT | LS27 8EG |
| W H SMITH HIGH ST | WHS HS STORES LUTON ARNDALE CENTRE | LU1 2TF |
| W H SMITH HIGH ST | WHS HS STORES DUNSTABLE BROADWALK | LU5 4RH |
| LONDIS | LONDIS LEIGHTON BUZZARD | LU7 0NR |
| W H SMITH HIGH ST | WHS HS STORES LEIGHTON BUZZARD HIGH ST | LU7 1DN |
| W H SMITH TRAVEL | WHS TRAVEL MANCHESTER PICADILLY RAIL | M1 2BN |
| W H SMITH HIGH ST | WHSR TRAFFORD PARK 7006 | M17 8BL |
| INDEPENDENT | NEW LANE SERVICE STATION | M30 7JW |
| COSTCUTTER | NEWS FOOD & BOOZE LTD | M30 8BD |
| COSTCUTTER | COSTCUTTER | M30 8HQ |
| W H SMITH HIGH ST | WHS HS STORES MANCHESTER ARNDALE ANNEXE | M4 3AD |
| INDEPENDENT | BARGAIN BOOZE PLUS | M41 5AL |
| W H SMITH TRAVEL | WHS TRAVEL MANCHESTER AIRPORT 232896 | M90 3NZ |
| W H SMITH TRAVEL | WHS TRAVEL MANCHESTER AIRPORT 202526 | M90 3NZ |
| INDEPENDENT | NEWS PLUS | ME10 4PB |
| INDEPENDENT | 68 HIGH STREET | ME12 1NL |
| INDEPENDENT | kgn news | ME13 8PQ |
| W H SMITH HIGH ST | WHS HS STORES MAIDSTONE WEEK ST | ME14 1RP |
| MACE | MACE ASHFORD ROAD | ME14 5DL |
| INDEPENDENT | Newsrack  Bearsted | ME14 5TQ |
| INDEPENDENT | NEWSFLASH | ME2 4TP |
| INDEPENDENT | UNIVERSAL STORES | ME3 9RD |
| INDEPENDENT | Clemons Newsagents | ME9 7AT |
| LONDIS | G&P LIMITED | MK16 9BA |
| LONDIS | LONDIS STORES | MK2 2NQ |
| W H SMITH HIGH ST | WHS HS STORES BEDFORD HARPUR CENTRE | MK40 1TG |
| W H SMITH HIGH ST | WHS HS STORES MILTON KEYNES CENTRAL | MK9 3BA |
| INDEPENDENT | STATION GARAGE | ML12 6ET |
| W H SMITH HIGH ST | WHS HS STORES HAMILTON REGENT WAY | ML3 7DZ |
| W H SMITH HIGH ST | WHS HS STORES AIRDRIE GRAHAM ST | ML6 6DB |
| INDEPENDENT | 41 MAIN ST | ML7 5HA |
| LONDIS | LONDIS  MUSWELL HILL | N10 2AE |
| W H SMITH HIGH ST | WHS HS STORES LONDON WOOD GREEN | N22 6HE |
| W H SMITH TRAVEL | WHS TRAVEL NEWCASTLE RAIL | NE1 5HL |
| W H SMITH HIGH ST | WHS HS STORES NEWCASTLE UPON TYNE NORTHUMBERLAND ST | NE1 7DE |
| W H SMITH HIGH ST | WHS HS STORES GATESHEAD METRO CENTRE | NE11 9YT |
| W H SMITH TRAVEL | WHS TRAVEL NEWCASTLE AIRPORT | NE13 8BZ |
| LONDIS | LONDIS NEWCASTLE | NE39 1PZ |
| COSTCUTTER | MACE HEXHAM | NE47 6JG |
| W H SMITH HIGH ST | WHS HS STORES MORPETH BRIDGE ST | NE61 1PE |
| LONDIS | LONDIS MORPETH | NE61 3JN |
| COSTCUTTER | PHILLIPS NEWSAGENTS | NE65 7SL |
| LONDIS | LONDIS ALNWICK | NE66 4HU |
| LONDIS | LIDGLEY MARTIN & DONALD== | NE68 7RQ |
| W H SMITH HIGH ST | WHS HS STORES NOTTINGHAM VICTORIA CENTRE | NG1 3QD |
| COSTCUTTER | MISTRY MR NC | NG12 2HS |
| MACE | MACE LONGDALE SERVICE ST | NG15 9HN |
| W H SMITH HIGH ST | WHS HS STORES MANSFIELD SHOPPING CENTRE | NG18 1SN |
| INDEPENDENT | C&D SUPPLIES  MEL F | NG20 8JY |
| W H SMITH HIGH ST | WHS HS STORES NEWARK MARKET PLACE | NG24 1EG |
| W H SMITH HIGH ST | WHS HS STORES GRANTHAM HIGH ST | NG31 6PH |
| W H SMITH HIGH ST | WHS HS STORES ARNOLD FRONT ST | NG5 7EL |
| W H SMITH HIGH ST | WHS HS STORES BEESTON HIGH RD | NG9 2JQ |
| COSTCUTTER | MACE NOTTS | NN1 2QL |
| MACE | MACE BYFIELD | NN11 6XQ |
| LONDIS | CHAPLES STORES | NN12 8BA |
| W H SMITH HIGH ST | WHS HS STORES CORBY QUEENS SQUARE | NN17 1PD |
| HKS GARAGES | BROBOT PETROLE | NN18 8TJ |
| MACE | MACE COLLINGTREE | NN4 0LY |
| INDEPENDENT | POST OFFICE | NN7 1BD |
| MACE | MACE HARTWELL | NN7 2HE |
| LONDIS | FINEDON STORES | NN9 5LG |
| COSTCUTTER | COSTCUTTER 107719 | NN9 6LL |
| W H SMITH HIGH ST | WHS HS STORES NEWPORT COMMERCIAL ST | NP20 1QY |
| LONDIS | MR R BROWN | NP25 4TW |
| W H SMITH HIGH ST | WHS HS STORES CWMBRAN THE MALL | NP44 1PX |
| W H SMITH HIGH ST | WHS HS STORES ABERGAVENNY CIBI WALK | NP7 5AJ |
| W H SMITH TRAVEL | WHS TRAVEL NORWICH | NR1 1EF |
| INDEPENDENT | MUNDESLEY POST OFFICE | NR11 8AE |
| INDEPENDENT | MACE LOWER STREET | NR12 8AA |
| COSTCUTTER | MACE EXCHANGE STREET | NR17 2AB |
| COSTCUTTER | MACE NORMICH ROAD | NR18 0SH |
| INDEPENDENT | STUBBS | NR19 2DJ |
| W H SMITH HIGH ST | WHS HS STORES NORWICH GENTLEMENS WALK | NR2 1NA |
| MACE | MACE CHURCH STREET | NR24 2LE |
| W H SMITH HIGH ST | WHS HS STORES GREAT YARMOUTH KING ST | NR30 1LS |
| BUDGEN | MMRG HIGH STREET GORLESTON | NR31 6RB |
| W H SMITH HIGH ST | WHS HS STORES LOWESTOFT LONDON RD NORTH | NR32 1LS |
| INDEPENDENT | DIXONS | NR33 8PH |
| INDEPENDENT | JET S STN | NR6 5NQ |
| INDEPENDENT | WOODSIDE NEWS FOOD & WINE | NR7 9AD |
| INDEPENDENT | G&J LEE LTD | NR9 4AF |
| W H SMITH TRAVEL | WHS TRAVEL MAINLINE LONDON ST PANCRAS NW1 | NW1 1UN |
| W H SMITH TRAVEL | WHS TRAVEL MAINLINE LONDON EUSTON COLLONADE NW1 | NW1 2DU |
| W H SMITH TRAVEL | WHS TRAVEL MAINLINE LONDON MARYLEBONE STATION NW1 | NW1 6JJ |
| W H SMITH HIGH ST | WHS HS STORES LONDON BRENT CROSS | NW4 3FB |
| W H SMITH HIGH ST | WHS HS STORES ROCHDALE MARKET WAY | OL16 1EA |
| INDEPENDENT | 60 ASHTON MARKET HALL | OL6 6BZ |
| W H SMITH HIGH ST | WHS HS STORES ASHTON UNDER LYNE | OL6 7JE |
| W H SMITH HIGH ST | WHS HS STORES OXFORD CORNMARKET ST | OX1 3HE |
| LONDIS | GRANDPONT POST OFFIC | OX1 4PL |
| W H SMITH HIGH ST | WHS HS STORES DIDCOT THE BROADWAY | OX11 8RN |
| INDEPENDENT | COSTCUTTER WANTAGE | OX12 8AX |
| MACE | MACE ABINGDON | OX14 4AX |
| COSTCUTTER | NEWSLINKS | OX28 6BL |
| LONDIS | HORSPATH VILLAGE STO | OX33 1RU |
| COSTCUTTER | COSTCUTTER WHEATLEY | OX33 1XP |
| W H SMITH HIGH ST | WHS HS STORES PAISLEY HIGH ST | PA1 2BS |
| LONDIS | PAISLEY MILL SERVICE STATION | PA1 2UZ |
| INDEPENDENT | U SAVE | PA14 5HU |
| INDEPENDENT | I & S SWAN | PA15 1DD |
| INDEPENDENT | NEWS 4 YOU | PA15 1SR |
| LONDIS | LONDIS | PA2 0SA |
| INDEPENDENT | SANDBANK GENERAL STORE | PA23 8PA |
| W H SMITH TRAVEL | WHS TRAVEL GLASGOW AIRPORT (MAIN) | PA3 2TD |
| W H SMITH HIGH ST | WHS HS STORES OBAN GEORGE ST | PA34 5SD |
| MACE | MACE | PA37 1RT |
| INDEPENDENT | 22 HAIRST STREET | PA4 8QY |
| INDEPENDENT | 19 CHARLOTTE STREET | PA42 7DF |
| W H SMITH HIGH ST | WHS HS STORES PETERBOROUGH BRIDGE ST | PE1 1DP |
| LONDIS | MOUND G | PE12 6QB |
| COSTCUTTER | MACE SPALDING | PE12 6TJ |
| W H SMITH HIGH ST | WHS HS STORES WISBECH MARKET PLACE | PE13 1DL |
| COSTCUTTER | COSTCUTTER CHURCH DROVE OUTWELL | PE14 8RH |
| MACE | MACE SKEGNESS | PE24 5EW |
| W H SMITH TRAVEL | WHS TRAVEL PETEBOROUGH CITY HOSPITAL | PE3 9GZ |
| W H SMITH HIGH ST | WHS HS STORES KINGS LYNN NORFOLK ST | PE30 1AR |
| COSTCUTTER | COSTCUTTER FOXES MEADOW | PE32 2AS |
| W H SMITH HIGH ST | WHS HS STORES PERTH HIGH ST | PH1 5TJ |
| W H SMITH HIGH ST | WHS HS STORES PLYMOUTH NEW GEORGE ST | PL1 1RP |
| INDEPENDENT | FORBUOYS | PL11 2AB |
| INDEPENDENT | CLIFFORD MOTORS | PL11 2AD |
| INDEPENDENT | LISKEARD NEWS | PL14 3JB |
| MACE | MACE LAUNCESTON | PL15 8DF |
| W H SMITH HIGH ST | WHS HS STORES TAVISTOCK DUKE ST | PL19 0BA |
| LONDIS | LONDIS CORNWALL | PL24 2NS |
| MACE | MACE PENTEWAN | PL26 6BU |
| LONDIS | MR I BISSETT | PL26 7HD |
| INDEPENDENT | FOXHOLE PO & STORES | PL26 7TX |
| INDEPENDENT | PERRYS NEWSAGENTS | PL3 6NH |
| INDEPENDENT | SANDRA HARRIS | PL31 1QH |
| W H SMITH TRAVEL | WHS TRAVEL PLYMOUTH RAIL | PL4 6AB |
| INDEPENDENT | 40 HOOE ROAD | PL9 9RG |
| LONDIS | LONDIS QUEEN STREET | PO1 3NG |
| INDEPENDENT | THE NEWSAGENT | PO10 7AL |
| INDEPENDENT | CLAPPS NEWSAGENCY | PO11 0AU |
| INDEPENDENT | KP RETAIL INVESTMENT | PO12 1DF |
| W H SMITH HIGH ST | WHS HS STORES FAREHAM WEST ST | PO16 0AG |
| W H SMITH HIGH ST | WHS HS STORES CHICHESTER NORTH ST | PO19 1LF |
| INDEPENDENT | IND ORCHARD PARADE | PO20 0NS |
| INDEPENDENT | BOUGHTON | PO20 8JA |
| W H SMITH HIGH ST | WHS HS STORES BOGNOR REGIS LONDON RD | PO21 1PY |
| INDEPENDENT | CRAIGWELL NEWS | PO21 4DX |
| W H SMITH HIGH ST | WHS HS STORES NEWPORT HIGH ST | PO30 1SB |
| INDEPENDENT | MORRELLS | PO31 7AR |
| INDEPENDENT | CHIVERTONS OF COWES | PO31 7BE |
| W H SMITH HIGH ST | WHS HS STORES RYDE HIGH ST | PO33 2HW |
| COSTCUTTER | HOLDINGS YARMOUTH  LTD | PO41 0PD |
| W H SMITH HIGH ST | WHS HS STORES SOUTHSEA PALMERSTON RD | PO5 3QB |
| W H SMITH HIGH ST | WHS HS STORES WATERLOOVILLE LONDON RD | PO7 7EQ |
| W H SMITH HIGH ST | WHS HS STORES HAVANT MERIDIAN CENTRE | PO9 1UW |
| W H SMITH HIGH ST | WHS HS STORES PRESTON ST GEORGE CENTRE | PR1 2AE |
| INDEPENDENT | LONDIS OAKDENE | PR26 8LP |
| INDEPENDENT | MACE CROSTON ROAD | PR3 1HQ |
| LONDIS | NAZE NEWS  114 | PR4 1RH |
| W H SMITH HIGH ST | WHS HS STORES SOUTHPORT CHAPEL ST | PR8 1AF |
| W H SMITH TRAVEL | WHS TRAVEL READING | RG1 1LY |
| W H SMITH HIGH ST | WHS HS STORES READING BROAD ST | RG1 2AD |
| W H SMITH HIGH ST | WHS HS STORES NEWBURY NORTHBROOK ST | RG14 1AE |
| COSTCUTTER | MACE NEWBURY | RG18 9LU |
| LONDIS | LONDIS ARBORFIELD CROSS | RG2 9PQ |
| INDEPENDENT | HACKWOOD | RG21 3AP |
| W H SMITH HIGH ST | WHS HS STORES BASINGSTOKE OLD BASING MALL | RG21 7AW |
| LONDIS | PAMBER HEATH STORE | RG26 3EA |
| MACE | MACE HOOK | RG27 9DZ |
| INDEPENDENT | WOODLEY NEWS LIMITED | RG5 3JH |
| LONDIS | JH PATEL | RG8 0BG |
| W H SMITH HIGH ST | WHS HS STORES HENLEY ON THAMES BELL ST | RG9 2BW |
| W H SMITH HIGH ST | WHS HS STORES REDHILL THE BELLFRY | RH1 1PH |
| MACE | MESSRS D D HOLBORN | RH1 6DQ |
| W H SMITH HIGH ST | WHS HS STORES CRAWLEY COUNTY MALL | RH10 1FF |
| W H SMITH HIGH ST | WHS HS STORES HORSHAM SWAN WALK | RH12 1HQ |
| MACE | MACE COLTSFOOT DRIVE | RH12 5FN |
| MACE | MACE BRIGHTON ROAD | RH13 6HY |
| W H SMITH HIGH ST | WHS HS STORES HAYWARDS HEATH SOUTH RD | RH16 4LQ |
| W H SMITH TRAVEL | WHS TRAVEL GATWICK NORTH AIRPORT | RH6 0PJ |
| LONDIS | MR MUNDAY | RH6 9PT |
| W H SMITH HIGH ST | WHS HS STORES ROMFORD THE LIBERTY | RM1 3RL |
| W H SMITH HIGH ST | WHS HS STORES GRAYS THURROCK LAKESIDE SHOPPING CENTRE | RM20 2ZG |
| W H SMITH HIGH ST | WHS HS STORES SHEFFIELD FARGATE | S1 2HE |
| INDEPENDENT | HURRELLS NEWS | S40 1AR |
| W H SMITH HIGH ST | WHS HS STORES CHESTERFIELD THE PAVEMENTS | S40 1PA |
| W H SMITH HIGH ST | WHS HS STORES WORKSOP TOWN CENTRE | S80 1JN |
| W H SMITH HIGH ST | WHS HS STORES SHEFFIELD HIGH ST | S9 1EN |
| W H SMITH HIGH ST | WHS HS STORES SWANSEA THE QUADRANT | SA1 3QW |
| INDEPENDENT | MARGAM VILLAGE STORES | SA13 2TX |
| W H SMITH HIGH ST | WHS HS STORES LLANELLI VAUGHAN ST | SA15 3YT |
| MACE | MACE CHECKPOINT GARAGE | SA19 8DT |
| MACE | MACE MAIN STREET | SA32 8PL |
| LONDIS | LONDIS        4 17 8 | SA40 9XY |
| LONDIS | HOFFNANT STORES LTD | SA44 6DX |
| COSTCUTTER | THOMAS COSTCUTTER | SA46 0AS |
| COSTCUTTER | COSTCUTTER FELINFACH LAMPETER | SA48 8AE |
| W H SMITH HIGH ST | WHS HS STORES HAVERFORDWEST RIVERSIDE QUAY | SA61 2LJ |
| INDEPENDENT | TENBY HOUSE | SA65 9AD |
| INDEPENDENT | ROBINSONS RETAIL LTD | SA71 4DG |
| INDEPENDENT | CASTLE NEWS | SA71 4NP |
| ONE STOP STORES LTD | MILFORD NEWS | SA73 2HE |
| W H SMITH TRAVEL | WHS TRAVEL MAINLINE LONDON WATERLOO SOUTH SE1 | SE1 7NQ |
| W H SMITH TRAVEL | WHSMITH EUROPE TRAVEL | SE1 9SP |
| W H SMITH HIGH ST | WHS HS STORES LONDON LEWISHAM | SE13 7EP |
| INDEPENDENT | NEWS PLUS | SE16 4LD |
| INDEPENDENT | NICKYS NEWS | SE3 7BT |
| INDEPENDENT | MOTTINGHAM POST OFFICE | SE9 4TH |
| W H SMITH HIGH ST | WHS HS STORES STEVENAGE QUEENSWAY | SG1 1EA |
| LONDIS | LONDIS MUCH HADHAM | SG10 6DE |
| LONDIS | LONDIS WARE | SG12 0QW |
| W H SMITH HIGH ST | WHS HS STORES HERTFORD GREEN ST | SG14 1BN |
| COSTCUTTER | THE UPPER CALDECOTE | SG18 9BT |
| INDEPENDENT | 11 MARKET SQUARE | SG19 2NP |
| W H SMITH HIGH ST | WHS HS STORES STOCKPORT MERSEYWAY | SK1 1PW |
| W H SMITH HIGH ST | WHS HS STORES MACCLESFIELD MILL ST | SK11 6NE |
| W H SMITH HIGH ST | WHS HS STORES BUXTON SPRING GARDENS CENTRE | SK17 6DF |
| MACE | MACE MARPLE ROAD | SK2 5EU |
| INDEPENDENT | NEWS AND BOOZE | SK5 7AR |
| INDEPENDENT | 3 BERWICK PARADE | SK5 8LQ |
| LONDIS | M C PATEL & C PATEL | SL2 3RP |
| LONDIS | MS RANGERS | SL5 8QH |
| W H SMITH HIGH ST | WHS HS STORES MAIDENHEAD NICHOLSON WALK | SL6 1LL |
| LONDIS | HOLYPORT NEWS T/A CORNER | SL6 2HA |
| LONDIS | A JONES | SL6 9BT |
| LONDIS | PATEL D S MR | SL9 7AX |
| W H SMITH HIGH ST | WHS HS STORES SUTTON HIGH ST | SM1 1LZ |
| W H SMITH HIGH ST | WHS HS STORES SWINDON REGENT ST | SN1 1JQ |
| W H SMITH HIGH ST | WHS HS STORES CHIPPENHAM HIGH ST | SN15 3EP |
| LONDIS | LONDIS CHIPPENHAM | SN15 5EL |
| INDEPENDENT | 36 HIGH STREET | SN4 7AF |
| W H SMITH HIGH ST | WHS HS STORES SOUTHAMPTON ABOVE BAR | SO14 7LE |
| W H SMITH TRAVEL | WHS TRAVEL RAIL SOUTHAMPTON | SO15 1GP |
| MACE | MACE OXFORD ROAD | SO21 3LA |
| W H SMITH HIGH ST | WHS HS STORES WINCHESTER HIGH ST | SO23 9AH |
| LONDIS | LONDIS CURDRIDGE | SO30 2DN |
| INDEPENDENT | SOLENT CONV  ST  LTD | SO31 4JT |
| LONDIS | LONDIS NEWTOWN | SO32 1BJ |
| INDEPENDENT | BUDGENS OF SWAY | SO41 6BA |
| MACE | SANDY NEWS LTD | SO50 8GB |
| W H SMITH HIGH ST | WHS HS STORES SALISBURY OLD GEORGE MALL | SP1 2AG |
| W H SMITH HIGH ST | WHS HS STORES ANDOVER HIGH ST | SP10 1LJ |
| MACE | HEXAGON STORES & PO | SP10 3PR |
| SPAR NEWS GROUP | MACE STAPLEFORD | SP3 4LT |
| INDEPENDENT | MACE MIDDLETON | SP5 1QS |
| W H SMITH HIGH ST | WHS HS STORES SOUTHEND ON SEA HIGH ST | SS1 1LN |
| INDEPENDENT | HONEYCOMB NEWS | SS1 3EX |
| W H SMITH HIGH ST | WHS HS STORES BASILDON TOWN SQUARE | SS14 1BA |
| INDEPENDENT | WAKERING NEWSAGENCY | SS3 0ET |
| LONDIS | LONDIS ROCHFORD | SS4 1RF |
| LONDIS | LONDIS LEIGH ON SEA | SS9 4RY |
| LONDIS | BRUNT D | ST1 6RS |
| W H SMITH HIGH ST | WHS HS STORES STAFFORD GREENGATE ST | ST16 2HN |
| LONDIS | COLWICH FILLING STATION | ST17 0XJ |
| W H SMITH HIGH ST | WHS HS STORES NEWCASTLE UNDER LYME HIGH ST | ST5 1QQ |
| INDEPENDENT | AMEN CORNER NEWS | SW17 9JE |
| W H SMITH TRAVEL | WHS TRAVEL MAINLINE LONDON VICTORIA GENERAL STORE SW1V | SW1V 1JT |
| LONDIS | CHELSEA FOODFARE | SW3 5EJ |
| INDEPENDENT | BERRYS | SW7 4QT |
| W H SMITH HIGH ST | WHS HS STORES SHREWSBURY PRIDE HILL | SY1 1BN |
| LONDIS | J&M WHITTINGHAM MEL | SY21 0SE |
| LONDIS | LONDIS | SY21 9BZ |
| COSTCUTTER | MR  E  C  ASHTON & S | SY22 6RE |
| COSTCUTTER | PADARN SERVICE STATN | SY23 3SR |
| COSTCUTTER | JOHN THOMAS & SONS | SY23 5BT |
| LONDIS | LONDIS DORRINGTON VILLAGE | SY5 7JB |
| COSTCUTTER | R & R STORES | SY5 8LJ |
| W H SMITH HIGH ST | WHS HS STORES TAUNTON FORE ST | TA1 1NE |
| W H SMITH HIGH ST | WHS HS STORES BRIDGEWATER CORNHILL | TA6 3BU |
| MACE | MACE BRIDGEWATER | TA6 6LD |
| W H SMITH HIGH ST | WHS HS STORES GALASHIELS CHANNEL ST | TD1 1BJ |
| W H SMITH HIGH ST | WHS HS STORES KELSO HORSEMARKET | TD5 7HA |
| COSTCUTTER | MACE THE GREEN | TD6 0EW |
| INDEPENDENT | COSTCUTTER              K 14 | TD9 0QU |
| COSTCUTTER | MACE BROSELEY | TF12 5ET |
| W H SMITH HIGH ST | WHS HS STORES TELFORD CENTRE | TF3 4AF |
| INDEPENDENT | MMRG NEIGHBOURHOOD NEWS TELFORD | TF7 5BB |
| LONDIS | LONDIS SHROPSHIRE | TF9 3AA |
| W H SMITH HIGH ST | WHS HS STORES TUNBRIDGE WELLS | TN1 2SR |
| INDEPENDENT | Burwash Newsagents | TN19 7ET |
| W H SMITH HIGH ST | WHS HS STORES ASHFORD HIGH ST | TN24 8TB |
| INDEPENDENT | ADAMS OF RYE LTD | TN31 7JH |
| LONDIS | LONDIS STAPLECROSS | TN32 5QA |
| W H SMITH HIGH ST | WHS HS STORES HASTINGS PRIORY MEADOW | TN34 1PH |
| INDEPENDENT | PEBSHEM NEWS | TN40 2PD |
| W H SMITH HIGH ST | WHS HS STORES TONBRIDGE HIGH ST | TN9 1SQ |
| W H SMITH HIGH ST | WHS HS STORES NEWTON ABBOT COURTENAY ST | TQ12 2QL |
| INDEPENDENT | M & S NEWS | TQ3 2RB |
| INDEPENDENT | 5 TORBAY ROAD | TQ4 6AA |
| W H SMITH HIGH ST | WHS HS STORES TRURO PYDAR ST | TR1 2AX |
| W H SMITH HIGH ST | WHS HS STORES FALMOUTH MARKET ST | TR11 3AF |
| LONDIS | BENNETTS GUY | TR15 3EZ |
| W H SMITH HIGH ST | WHS HS STORES PENZANCE MARKET JEW ST | TR18 2LE |
| INDEPENDENT | ST MAWES POST OFFICE | TR2 5DG |
| LONDIS | MR & MRS C COX | TR4 8DU |
| LONDIS | JAMES GATHERIDGE | TR8 5EQ |
| W H SMITH HIGH ST | WHS HS STORES MIDDLESBROUGH CENTRE MALL | TS1 2NR |
| W H SMITH HIGH ST | WHS HS STORES REDCAR HIGH ST | TS10 3DS |
| INDEPENDENT | R S K CONVENIENCE STORE & NEWS | TS10 5DZ |
| LONDIS | TOPSPOT SERVICES (MARSKE) LIMI | TS11 6HQ |
| INDEPENDENT | BRADBURY SRVCE STATION | TS21 2ES |
| W H SMITH HIGH ST | WHS HS STORES HARTLEPOOL MIDDLETON GRANGE | TS24 7RR |
| COSTCUTTER | J IQBAL    35 | TW15 1DQ |
| W H SMITH HIGH ST | WHS HS STORES STAINES HIGH ST | TW18 4QR |
| W H SMITH TRAVEL | WHS TRAVEL LONDON HEATHROW TERMINAL TWO | TW6 1EW |
| W H SMITH TRAVEL | WHS TRAVEL LONDON HEATHROW TERMINAL TWO | TW6 1EW |
| W H SMITH TRAVEL | WHS TRAVEL HEATHROW T5 AIRSIDE | TW6 2GA |
| W H SMITH TRAVEL | WHS TRAVEL HEATHROW T5 AIRSIDE 1 | TW6 2GA |
| W H SMITH HIGH ST | WHS HS STORES RICHMOND GEORGE ST | TW9 1JS |
| W H SMITH HIGH ST | WHS HS STORES UXBRIDGE HIGH ST | UB8 1JY |
| JERSEY | JERSEY DISTRIBUTION | UNKNOWN |
| MACE | S.A.R.K CONSTRUCTION LTD | UNKNOWN |
| INDEPENDENT | 17 THAYER STREET | W1U 3JX |
| W H SMITH TRAVEL | WHS TRAVEL MAINLINE LONDON PADDINGTON STATION W2 | W2 5AS |
| W H SMITH HIGH ST | WHS HS STORES WARRINGTON THE MALL | WA1 1QE |
| INDEPENDENT | HOUGHTONS NEWSAGENTS | WA11 8HE |
| W H SMITH HIGH ST | WHS HS STORES ALTRINCHAM GEORGE ST | WA14 1SF |
| INDEPENDENT | MMRG HIGH STREET BIRCHWOOD | WA3 7PG |
| INDEPENDENT | THELWALL PO NEWSAGEN | WA4 2EZ |
| W H SMITH TRAVEL | WHS TRAVEL MAINLINE LONDON CHARING CROSS WC2N | WC2N 5HS |
| W H SMITH HIGH ST | WHS HS STORES WATFORD HARLEQUIN CENTRE | WD17 2TB |
| INDEPENDENT | 120 HIGH STREET | WD3 1AB |
| LONDIS | MR T MRS PJM REGAN | WD3 6AT |
| LONDIS | G PURCELL LTD | WF1 2JQ |
| W H SMITH HIGH ST | WHS HS STORES WIGAN STANDISGATE | WN1 1UG |
| INDEPENDENT | UNIT 6 SMITHY GREEN | WN2 2AT |
| INDEPENDENT | RASHIDS PVT LTD | WN7 4NB |
| INDEPENDENT | MEDIA SOLUTIONS LTD | WN7 4PG |
| W H SMITH HIGH ST | WHS HS STORES WORCESTER HIGH ST | WR1 2QB |
| MACE | MACE PERSHORE | WR10 1HR |
| MACE | MACE EVESHAM | WR11 4HG |
| LONDIS | D COOKE | WR14 1LH |
| BUDGEN | LONDIS ALCESTER RD | WR7 4DB |
| W H SMITH HIGH ST | WHS HS STORES WALSALL PARK ST | WS1 1NL |
| W H SMITH HIGH ST | WHS HS STORES LICHFIELD BAKERS LANE | WS13 6NF |
| W H SMITH HIGH ST | WHS HS STORES ALDRIDGE THE SQUARE | WS9 8QS |
| W H SMITH HIGH ST | WHS HS STORES YORK CONEY ST | YO1 9QL |
| LONDIS | UMPLEBY | YO10 4JX |
| INDEPENDENT | CARD & CANDY CORNER | YO11 1JW |
| W H SMITH HIGH ST | WHS HS STORES SCARBOROUGH | YO11 1LD |
| INDEPENDENT | BAKER&MAY COSTCUTTER | YO11 2LN |
| INDEPENDENT | HOPPERS OF MALTON | YO17 7LW |
| INDEPENDENT | THE SQUARE MALTONGATE | YO18 7LF |
| SPAR NEWS GROUP | MIDDLETON SERVICE STAT | YO18 8NS |
| COSTCUTTER | COSTCUTTER | YO19 6AB |
| W H SMITH TRAVEL | WHS TRAVEL YORK RAIL | YO24 1AY |
| COSTCUTTER | COSTCUTTER STRENSALL | YO32 5AA |
| W H SMITH HIGH ST | WHS HS STORES YORK | YO32 9LF |
| INDEPENDENT | PYBUS NEWSAGENT | YO51 9AW |
| LONDIS | R D T FORECOURTS | YO60 7SE |
| INDEPENDENT | G E &E TOWLER & SON | YO62 6AA |