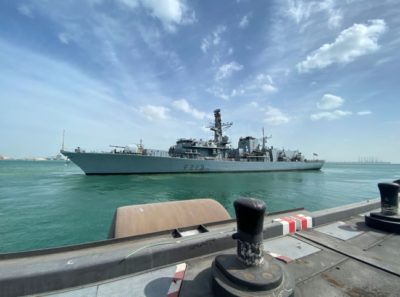 In the 'Integrated Review Refresh 2023' the UK Government vows that it will be 'deploying more of our naval assets across the world to protect shipping lanes & strategic chokepoints, such as the Strait of Hormuz' and will work 'through the Five Power Defence Arrangements in the Indo-Pacific.'

In the outline document (published today, 13.3.23) it also explains: 'Alongside space and cyberspace, the UK will continue to balance and shape in the maritime domain – which is essential to global connectivity and prosperity, and to a healthy planet, but remains under increasing pressure from systemic competition and environmental degradation.'
It goes on: 'We will maintain our integrated approach to maritime security, environment and trade – building on our long history as a maritime power. In doing so, the UK will maintain an active role in upholding freedom of navigation and reinforcing the centrality of the UN Convention of the Law of the Sea, including by: continuing to make the Royal Navy available to NATO; deepening naval partnerships with JEF nations…' [*].

More on this in a forthcoming edition of Warships IFR
* 'The JEF is a UK-led coalition of like-minded nations (Denmark, Estonia, Finland, Iceland, Latvia, Lithuania, Netherlands, Norway and Sweden), comprising high readiness forces configured to respond rapidly to crises in the High North and Northern Europe.' – definition. Source: Danish Ministry of Defence.