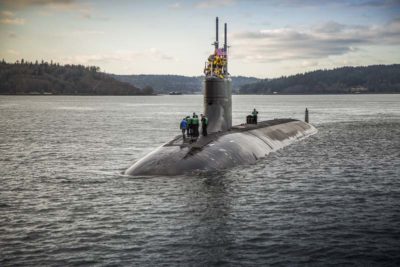 Here's a circa 2016 US Navy image of Seawolf Class attack submarine (SSN) USS Connecticut, which, so the US Pacific Fleet says, 'struck an object while submerged on the afternoon of October 2.'
The nuclear propulsion & other spaces were 'not affected'. Some crew were injured – nothing life-threatening, however. The 23-year-old, 9,000 tons (dived) submarine was, the USN makes clear, 'operating in international waters.'

She has since headed on the surface for the naval base at Guam, under her own power. Once there the full scale of the damage to the vessel will be assessed and an inquiry into the circumstances of the episode will be arranged.
It is understood that USS Connecticut was operating in the South China Sea, a tense part of the world where Chinese and American naval units are often in very close company. There is nothing as yet to suggest the 'object' was one of China's submarines that the American vessel was trailing.
A Chinese foreign ministry spokesperson urged the USA to provide 'details of the incident' and also reassurance about whether or not the collision 'caused a nuclear leak'. The Chinese also want to know the 'purpose' of USS Connecticut 'cruising' in those waters. Beijing currently claims all of the South China Sea as its territorial waters, even those parts that are recognised as international waters.