by Charles Strathdee & Usman Ansari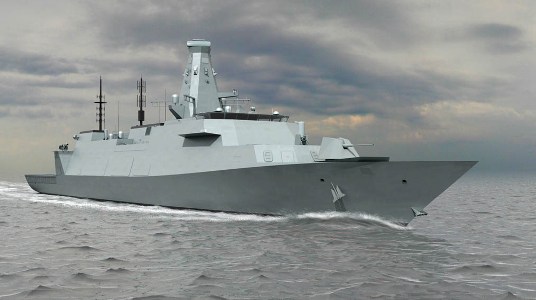 Australia and the UK have signed a new Defence Treaty that may pave the way for the long-standing allies to join forces in constructing their next generation frigate.
Aside from committing themselves to look at the suitability of the Type 26 Global Combat Ship (GCS) for both fleets, the agreement also promises they will work together on Australia's next generation submarine programme. And there was a hint they might co-operate in creating a new type of submarine.
UK Secretary of State for Defence Philip Hammond said: "This defence treaty will drive forward closer co-operation on a wide range of issues, making our forces more interoperable and maximising our capabilities. Areas of potential co-operation include future frigates, with the Royal Navy's Type 26 design, a cutting edge blueprint that could be the first of many opportunities for future collaboration. In times of budget pressures for all nations, it makes sense to maximise economies of scale and work with our friends to get the best value for money on all sides."
A communiqué issued after the conclusion of the Australia UK-Ministerial Consultations (AUKMIN) summit, held in Australia, revealed there will be 'an early joint report on the possibilities for mutually beneficial collaboration on Australia's future frigate and the UK's global combat ship.' It went on: 'We will also examine the possibility of collaboration in respect of Australia's submarine capability.'
During his visit to Australia Mr Hammond received a tour of Australian surface ships and a submarine, while also visiting a BAE Systems shipyard in company with his counterpart, Defence Minister Stephen Smith.
"Working together in close collaboration generally on procurement, on capability, on acquisition is a very sensible thing to do," observed Mr Smith during a press conference at the shipyard. "Adding critical mass often makes things much more effective and much more efficient. And over the years you've seen Australia engage in that sort of conversation with the United Kingdom, with the United States, with New Zealand. We think there is a lot of potential – for example with the future frigates – to formalise that conversation between Australia and the United Kingdom, to see what we can make of these opportunities, or whether these opportunities exist."
The UK Defence Secretary explained the Type 26 has been "designed from the outset with the idea that we would build this frigate both in the UK for our use and through partnerships with other countries for their use. It's designed as a platform that can be fitted with different combat systems for different types of operations around the world. So we believe this really would be something that is worth exploring as a win-win collaboration between the UK and Australia, who would be the first nation to join with us in this programme."
Should Australia join the Type 26 programme it would construct half a dozen, while the UK continues with its requirement for 13. The fact that BAE Systems runs shipyards in both Australia and Britain is an obvious basis for taking things forward in a material sense.
It has been suggested Australia would be following the UK's lead, something that politically might be hard to sell to proudly independent Aussies. However, Mr Smith pointed out: "This is being led not by Australia, not by the United Kingdom, it's being led by a partnership. So you've got two countries with a long-standing shared history, but you've also got two countries who very often see the world in comparable terms, have the same values and virtues. We live in different parts of the world, but there are still things that we can do together in a practical co-operation sense."
Australia's working relationship with NATO nations on the front line, at sea against the piracy menace in the Indian Ocean and also in Afghanistan, means that it often shares strategic aims and objectives (and capability requirements) with the Europeans, not least the UK.
The submarines aspect does not necessarily mean the countries will co-operate to build a new generation of boats – the UK is still bringing into service its new Astute Class SSNs, while Australia operates AIP conventional submarines. With British defence firms embedded already in both maintaining and the current Collins Class boats, and Australia's future destroyer construction, the scope for co-operation has many different aspects.
Intriguingly, and despite the above, Mr Smith did say something that hinted Australia and the UK have not entirely ruled out working together on a new type of submarine. "It's already been the case that there has been very good collaboration between Australia and the United Kingdom on submarines," he explained. "One of the things that I did in the margins of AUKMIN last year [held in London] was speak to a range of [UK] submarine experts, which was very helpful in trying to improve our sustainment and maintenance arrangements on the Collins Class submarine."
Mr Smith added, referring to joint work by Australia and the UK: "So, submarine maintenance and sustainment, future submarine programmes, discussion about some of those maintenance, design, build issues are, we think, potentially open to us. But we've had a very preliminary conversation about that."
Pictured Above: A CGI impression of the forthcoming Type 26 Global Combat Ship.
Image: UK MoD.