Odin's Eye
[from the April 2013 edition, published March 22]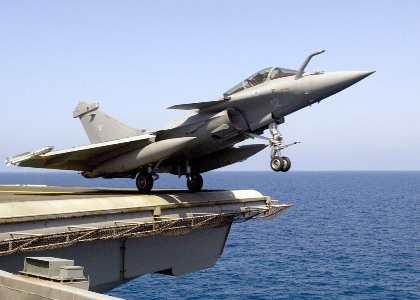 British Prime Minister David Cameron has again showed his penchant for U-turns and making policy on the hoof by floating a scheme to divert funds from the Department for International Development (DFID, which provides aid to foreign countries) to the Defence budget. Cameron's idea was that DFID's ballooning budget should be used to pay for peacekeeping missions – but not for buying weapons – a move which would, however, free some of Defence's budget to equip the armed forces.
His chosen vehicle for this scheme is said to be the National Security Council, which rules in a loose kind of way over the so-called conflict pool [of cash available for contingencies] which is part-funded by DFID, the Ministry of Defence and the Foreign Office. The conflict pool has already been drawn upon to provide help for anti-government forces in Libya and Syria.
Use of the conflict pool could, Cameron thinks, be a method of making DFID pay for British troops and aircraft deployed to Mali, or for increasing military advice and aid elsewhere. On one level this is good news. It is clear that Cameron realises he has cut Defence too much. He has at least partially absorbed the warnings of senior military commanders that he has put the defence of the nation – which should be his first priority – at risk.
Regardless of any move to adjust the conflict pool, the Prime Minister should look closely at the salary structure of DFID and question why it needs so many overpaid London-based pen pushers? At the heart of the Prime Minister's problem, however, lies the coalition government's decision to ring fence DFID's budget and to raise it to 0.7 per cent of GDP or about £12 billion.
This has angered voters who are experiencing real cuts in their pay and the local services upon which they rely. Libraries, athletics stadiums and bus services are cut, while government ministers preside over the largess of 'aid super power Britain' doling out cash to improve similar facilities and services overseas, some of it in nations blighted with corruption. UK taxpayers' cash is used instead for funding flash cars and luxury villas.
Elsewhere, nations such as India have continued to receive aid – which even their politicians have derided as unnecessary. Meanwhile, India builds aircraft carriers, nuclear-powered submarines and flotillas of destroyers and frigates. In that way the British subsidise India's burgeoning maritime might while the Royal Navy is cut to shreds and has key ships and capabilities axed.
During his recent visit to India, to lather up trade prospects, David Cameron pleaded with the Indians not to buy French-built Rafale strike jets. Instead, he feels, they should invest in the Typhoon, in which Britain has major involvement. The Indians rebuffed him and quite right, too, as the Rafale is a maritime strike fighter built from the outset to fly from those carriers the UK taxpayer has subsidised.
The Typhoon would find it very difficult to handle the tough environment of aircraft carrier operations. It has not been designed for such a role. It does not currently have that capability. The Indians are not fools. They want a strike jet that can fly from land and operate at sea.
So they have taken British aid – indirectly avoiding diverting carrier construction funds elsewhere – and then opted for a proper (French-origin) carrier jet. 'Aid super power' pretensions look rather pathetic in the face of global realpolitik.
Meanwhile, the UK Secretary of State for Defence warns the government not to impose another round of severe cuts on the nation's military. The equipment budget is safe, so any further severe reductions would be expressed in making redundant thousands more soldiers, sailors and airmen – all highly trained at great expense and also in many cases battle hardened. They would be thrown on the dole, leaving nobody to actually operate all the shiny new equipment. You couldn't make it up, but rather than shave a small sum off the gigantic welfare budget or just cutting DFID's budget and distributing elsewhere, the Prime Minister comes up with a fudge.
Officials, caught on the hop once more by David Cameron's extemporising, were quick to point out that the aid budget could only be used to fund military spending in three areas: Security, demobilisation and peacekeeping. Aid funds could not be used for combat operations or equipment.
David Cameron is also of course trying to recover the ground that he lost on the eve of another of his foreign jaunts when he claimed that the Defence budget would be increased – only to be corrected by Treasury officials. He said in 2010, when the ill-devised Strategic Defence and Security Review (SDSR) was revealed, that in his "strong view" the Defence budget would require year on year real-terms growth in the years beyond 2015. On the basis of this promise by no less than the Prime Minister, defence ministers and the chiefs of the Armed Forces laid their long-term plans, ordered equipment and made decisions about manpower levels.
Last year's Autumn Statement, which announced further cuts in the Defence budget, was a kick in the teeth. The true effect is that in 2014/15 the defence budget will be some £500 million lower than expected.
It seems increasing likely that SDSR, even though it was meant to be a ten-year policy, is no longer viable. Cameron is beset not because he wants to re-allocate the conflict pool, but because he has not funded Defence properly and does not seem to be in command of his government.
Pictured Above: A French Navy Rafale strike jet launches from an American carrier. India was immune to the British PM's suggestions that it buy the Typhoon instead.
Photo: US Navy.