by Francis Beaufort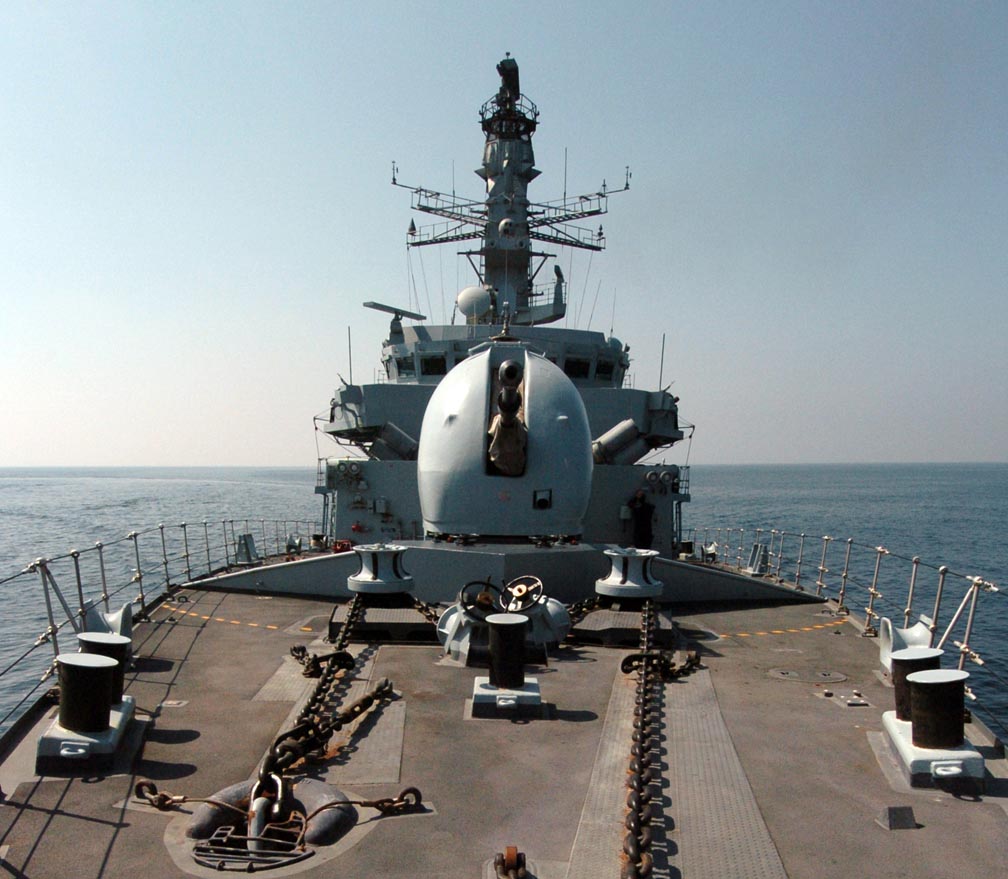 The general who leads the British armed forces highlighted a chronic shortage of surface warships during a speech at Oxford University. General Sir David Richards was giving the Annual Lecture Address by the UK Chief of Defence Staff, telling an audience of academics, students and other invited guests that one of his main worries is the lack of Royal Navy destroyers and frigates.
It is apparently forcing the RN to divert sophisticated high-end Type 45 destroyers away from their primary role to hunt down pirates. General Richards reportedly remarked: "That can't be good. We've got to sort it out." He was highlighting a problem with lack of critical mass in the RN that has in recent years seen frigates and destroyers dwindling from 32 (just over a decade ago) to a mere 19 today.
Standard rule of thumb for how many will, in reality, be conducting operations at any one time is to divide the total by three. That means Britain will only have around six available for all tasking. This can range from policing roles (such as anti-piracy off Somalia) to protecting shipping (from potential missile attack by Iran in the Strait of Hormuz) to standing defence commitments, such as protecting the Falklands, patrolling UK home waters and safeguarding Crown Dependencies in the Caribbean.
The British fleet has already been forced to withdraw from committing warships to NATO standing naval forces, further reducing the nation's presence on the high seas. Since the current government's decision to axe the Nimrod Maritime Patrol Aircraft, the RN has also been required to keep more surface ships and helicopters at home dedicated to protecting nuclear deterrent submarines.
Commitments to providing destroyers and frigates to NATO war-fighting task groups, such as that deployed off Libya last year have further stretched the fleet. On at least one occasion neither a frigate nor destroyer has been available to patrol the Falkland Islands or even UK waters. General Richards revealed during his Oxford speech that sometimes politicians ask him if it is possible to go and carry out certain missions. He responds: "With what?"
Things are not likely to get any better, for a government minister has recently confirmed in Parliament that the status quo of inadequate numbers will remain. In a Written Answer to an MP's question on warship numbers Philip Dunne, Minister for Defence Equipment, Support and Technology stated: 'The 2010 Strategic Defence and Security Review stipulated that the Royal Navy will operate a fleet of 19 destroyers and frigates in 2020, comprising six Type 45 destroyers and 13 Type 26 frigates.' Clearly he needs to gain a greater grasp on his portfolio, for the Type 26 will not start building for some years and it would take a miracle for any to be in service by 2020. The first of the class is not scheduled to commission until 2021 at the earliest. The venerable Type 23 frigate will continue to form the backbone of the frigate force well into the 2020s. Some Type 23s will clock up 30 years and more before they are decommissioned. To make matters worse in the short term, the current government in 2010 decided to discard four supremely useful and highly capable Type 22 frigates, which were in constant demand for a variety of missions around the world, most particularly East of Suez.
At the same time as the RN grapples with a chronic shortage of frigates and destroyers, an imminent business rationalisation by BAE Systems looks likely to snuff out England's last major warship construction yard, at Portsmouth.
Its 1,500-strong workforce played a key role in constructing modules for both the Type 45 destroyers and the future aircraft carriers. Closure in Hampshire, with BAE Systems yards at Govan and Scotstoun on the Clyde remaining open – along with the Babcock Marine warship integration facility at Rosyth – will see a situation where (at a time when Scotland may well break away from the UK) yards building the Type 26s will be in a foreign country. The future fleet replenishment vessels for the new aircraft carriers, Type 45s and Type 26s are already being built in South Korea.
The small numbers involved in MoD ship construction orders do not help the situation. A prime example is the Type 45, which was originally mean to be a class of 12, replacing the Type 42 destroyers on a one-for-one basis. This was cut to an order for eight and then just six ships by the previous Labour administration. This saw the unit cost leap – for there was less to support the workforce or the infrastructure. Even though this happened it is wrong to assume the Type 45s cost a billion pounds each (and it is therefore too expensive to build more).
General Richards reinforced this misconception when he remarked in Oxford that it was 'ridiculous' that the UK has '£1 billion destroyers trying to sort out pirates'.
As revealed last month to the Commons by Mr Dunne in a Written Answer, 'Type 45 destroyer unit production cost is £651 million, as reported in the National Audit Office Major Projects Report for 2011.'
This compares poorly with the Type 23 frigate, of which 16 were originally built – production stopped a decade ago – and which (by the end) cost around £100 million per ship. The Type 45 is, though, a much more sophisticated vessel that places the Royal Navy on a par with the best fleets in the world for air-defence.
However, the sheer unit costs did force Navy chiefs to rule out arming the Type 45s with Tomahawk Land Attack Missiles (TLAM), giving them more sophisticated ASW or anti-shipping capabilities, and providing sparse close-in defensive systems.
The Type 45s not only lack armament, but a paucity of numbers means they will be hard-pressed to provide full cover for the new aircraft carriers, assault carriers and amphibious landing ships if ever a major crisis or war erupts. More than two will no doubt be available for operations, but all six would be needed to guarantee a proper screen for a simultaneous deployment of both the Carrier Strike and Amphib groups.
Aside from potential enemy action denuding the RN of its remaining frigates and destroyers with frightening speed, other reasons for lack of availability may further whittle down the force. Poor current RN force levels are a weakness that admirals, academics and other naval affairs experts have been highlighting for years. It is good to have a contribution from the current uniformed head of the Services.
PICTURED
ABOVE: The British Duke Class (Type 23) frigate HMS Grafton on patrol up-threat in the Gulf in 2005. Though Britain is today short of frigates, the Grafton was sold in 2006 to the Chilean Navy.
Photo: US Navy.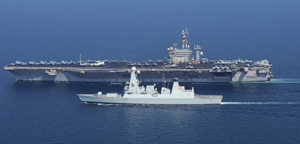 The Daring Class (Type 45) destroyer HMS Diamond sails in company with the USS Dwight D. Eisenhower, on duty in Arabian waters. Diamond is one of just six Type 45s to be built for the Royal Navy, a figure many feel is too small for all the service's global commitments.
Photo: US Navy.