UKRAINIAN NAVY FLAGSHIP HEADS HOME
And Proves She did not Defect to Pro-Russia Faction
Report and photographs by Special Correspondent Cem Devrim Yaylali, Istanbul
The flagship of the Ukrainian Navy, the Krivak Class frigate Hetman Sahaydachny, passed through the Turkish Straits and is today in the Black Sea. Despite conflicting reports (see our accompanying coverage) the Hetman Sahaydachny was flying the Ukrainian flag, indicating the ship is currently in the hands of pro-Kiev sailors rather than defecting to the pro-Russian autonomous region of Crimea.
The Ukrainian frigate was returning from conducting anti piracy operations first with Combined Task Force-151 and later with Operation Atalanta since September 2013, working closely alongside NATO and EU nation navies.
The normal homeport of the ship is Sevastopol, which is currently under the control of Russian forces. It is possible the frigate is now heading for Odessa, the other major naval port of Ukraine (which has experienced unrest but is still in Kiev government hands).
A large Ukrainian flag was hoisted as Hetman Sahaydachny passed through the Bosphorus, a bold sign of the warship's allegiance. The large patrol boat TCSG-90, from Turkish Coast Guard, escorted the Ukrainian vessel during her passage. A few minutes later the Turkish Navy frigate Yavuz passed through the Bosphorus and followed Hetman Sahaydachny towards the Black Sea. The Turkish warship was not officially shadowing the Ukrainian frigate, or escorting her, but the presence of Yavuz was not a coincidence either.
Stop Press: On the morning of March 5, the Ukrainian defence ministry released a statement that Hetman Sahaydachny had reached home waters. A defence ministry statement declared the frigate had 'entered Ukrainian territorial waters…now she is near Odessa port.' It added: 'Military officials are currently solving the personnel accommodation and logistic support. The personnel are ready to accomplish the orders of the Ministry of Defense and the General Staff of Ukraine.'
Pictured:
Featured – Hetman Sahaydachny steams through the waters of the Bosphorus, with Istanbul in the background. Photo: Cem Devrim Yaylali.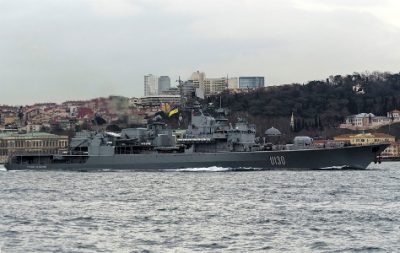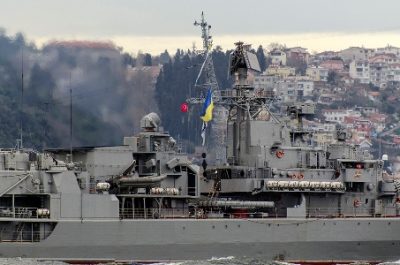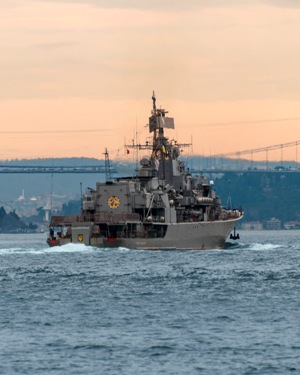 All photos are strictly © Cem Devrim Yaylali, 2013. For more by Cem Devrim Yaylali visit turkishnavy.net