TRIPLE ALLIANCE TO CONTAIN MASSIVE CHINESE NAVAL EXPANSION
Fallout from shock agreement may see jilted France push
hard for a European military force to rival NATO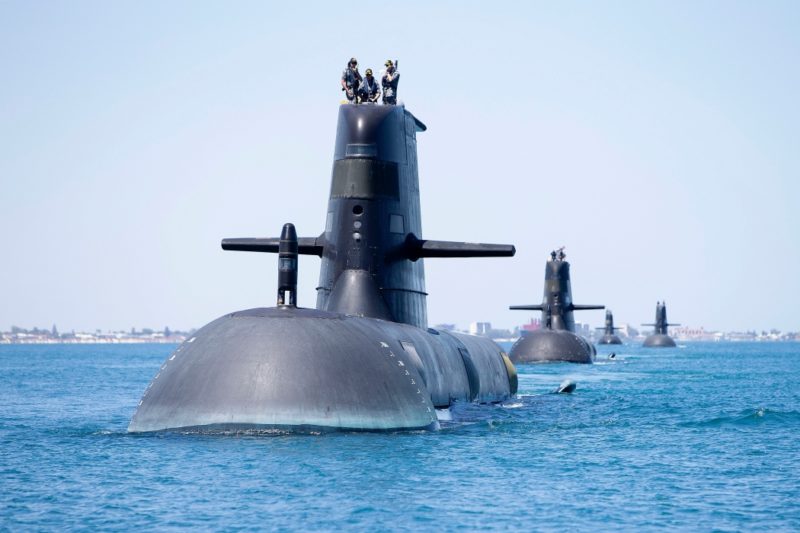 A new defence pact is providing a huge leap forward in undersea warfare capability for the Royal Australian Navy, which will be going from Collins Class diesel-electric submarines (SSKs) to something like the Astute or Virginia class nuclear-powered attack boats (SSNs) of the Royal Navy and US Navy.
The Australia-United Kingdom-United States (AUKUS)  alliance was revealed when US President Joe Biden, Australian Prime Minister Scott Morrison and British P.M. Boris Johnson gave a virtual joint press conference.
Morrison explained that AUKUS would be "a new enhanced trilateral security partnership between Australia, the United Kingdom, and the United States… where our technology, our scientists, our industry, our defence forces are all working together to deliver a safer and more secure region that ultimately benefits all."
A key part of the arrangement is a project to enable the Royal Australian Navy (RAN) to create a force of eight SSNs. The Australian P.M. explained: "The first major initiative of AUKUS will be to deliver a nuclear-powered submarine fleet for Australia. Over the next 18 months, we will work together to seek to determine the best way forward to achieve this. This will include an intense examination of what we need to do to exercise our nuclear stewardship responsibilities here in Australia." Morrison added: "We intend to build these submarines in Adelaide, Australia, in close cooperation with the United Kingdom and the United States. But let me be clear: Australia is not seeking to acquire nuclear weapons or establish a civil nuclear capability.  And we will continue to meet all our nuclear non-proliferation obligations."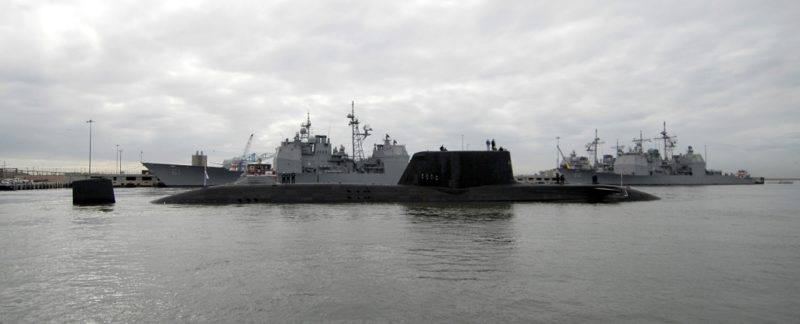 On this aspect, President Biden observed: "We're not talking about nuclear-armed submarines. These are conventionally armed submarines that are powered by nuclear reactors. This technology is proven. It's safe. And the United States and the UK have been operating nuclear-powered submarines for decades."
The British P.M. explained that the AUKUS submarine project will be "one of the most complex and technically demanding projects in the world, lasting for decades and requiring the most advanced technology. It will draw on the expertise that the UK has acquired over generations, dating back to the launch of the Royal Navy's first nuclear submarine over 60 years ago."
No matter what the politicians may (deliberately fail) to suggest, AUKUS formalises the direction of the three navies and nations in tackling the major challenges represented by the massive expansion of the Chinese navy and Beijing's illegal seizure of islands and reefs in the South China Sea. This has seen those territories transformed into heavily armed military bastions, to deny access to international waters and protect China with what Beijing sees as its 'Great Wall at Sea'. Beijing is also seeking to prise islands in the East China Sea from Japanese sovereignty. The US and UK navies are already part of a naval alliance with Japan's to safeguard international waters of the South and East China seas.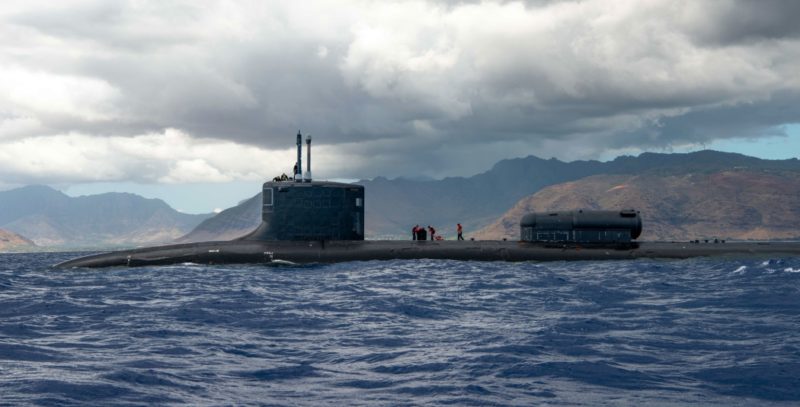 When it comes conducting operations in decades to come,  AUKUS will build on the well-established front-line partnership between the navies of Australia, the UK and USA.
Plus, as also reported in past editions of WARSHIPS IFR, the UK and Australia are already working jointly to build Type 26 frigates for their navies. Therefore, a UK-Australia partnership in constructing submarines is no surprise – especially following disquiet in Australia about bringing the French offering to fruition. Meanwhile, the USA already provides key support for the current generation of Australian submarines.
Vice Admiral Michael Noonan, Chief of the Navy Australia, hailed the AUKUS announcement as the single most consequential decision made in relation to the RAN in his lifetime.
He pointed out that the gap between today and the new SSNs entering service means the current Collins Class submarines "will undergo a life-of-type extension…so we can continue to protect our nation and regional friends. These boats are one of the world's most capable conventional submarines."
The AUKUS alliance is a boost to Australia increasing its maritime strike power by procuring Tomahawk Land Attack Missiles (TLAM) for Hobart Class destroyers and Long-range Anti-ship Missiles (LRASM)  for its Super Hornet fighters.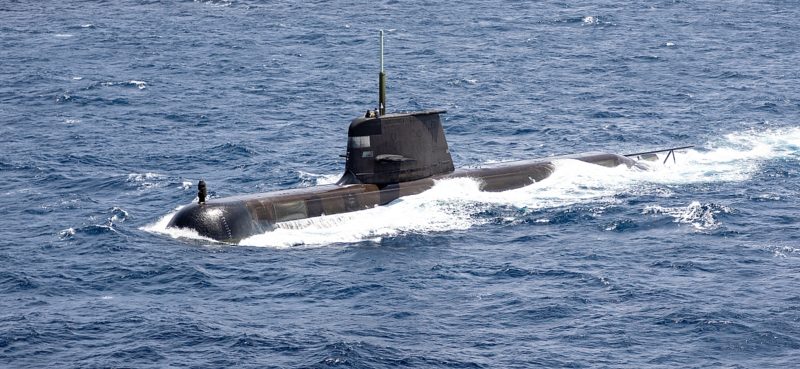 The decision by Australia to abandon a project to build a dozen Attack Class advanced diesel-electric submarines, based on the French-origin Barracuda design, has provoked outrage in Paris.
In a joint statement  Jean-Yves Le Drian, France's Minster for Europe and Foreign Affairs,  and its Defence Minister, Florence Parly, described the decision to cancel the programme to build the Attack Class as "contrary to the letter and the spirit of the cooperation which prevailed between France and Australia, based on a relationship of political trust as on the development of an industrial and technological base of defence of very high level in Australia."
They went on: "The American choice, which leads to the removal of an ally and a European partner such as France from a structuring partnership with Australia, at a time when we are facing unprecedented challenges in the Indo-Pacific region, whether on our values ​​or on respect for multilateralism based on the rule of law, marks an absence of coherence that France can only observe and regret."
In explaining his government's decision, Prime Minister Morrison explained: "The [Australian] Government would like to thank the Attack Class submarine workforce, Naval Group, the Government of France and Lockheed Martin Australia for their efforts to date. However, accelerating changes to regional security make conventional submarines unsuited to our operational needs in the decades ahead."
He added that his administration "will actively work with industry to ensure the people and skills developed under the existing programme are not lost to the Government's Naval Shipbuilding Enterprise as we establish a new programme to support the delivery of nuclear-powered submarines to the Navy."
Yet despite its Australian disappointment, France remains a major player when it comes to selling cutting-edge naval vessels to nations around the world, including in recent years supplying new conventional submarines to Malaysia, Chile and India.
It also seems to have been overlooked in some quarters that France is already well down the road in assisting Brazil to become the first Southern Hemisphere navy to construct and operate a nuclear-powered attack submarine…and building new conventional submarines for the Brazilians too. It will see the Brazilian fleet operating a SSN well before the RAN. Brazil will be the seventh member of global nuclear submarine club. The others are USA, UK, Russia, China, India and France.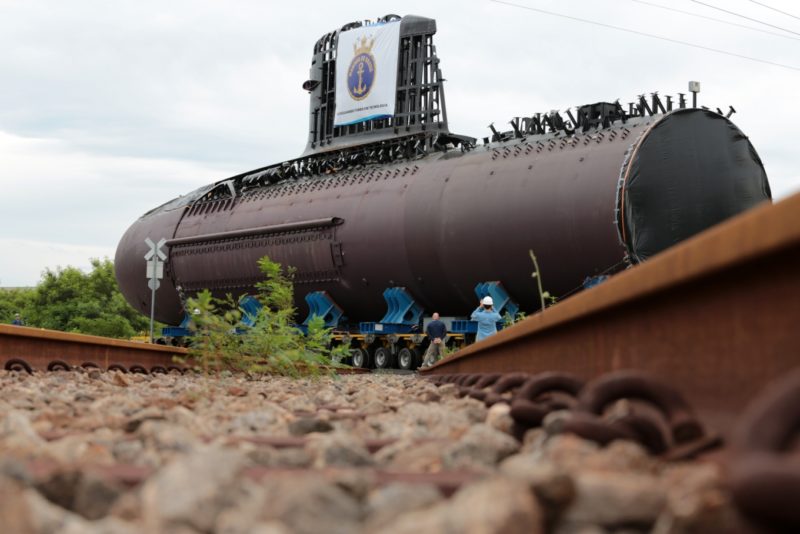 Also angry with the AUKUS is China, with Foreign Ministry Spokesperson Zhao Lijian telling a press conference in Beijing:  "The nuclear submarine cooperation between the US, the UK and Australia has seriously undermined regional peace and stability, intensified the arms race and undermined international non-proliferation efforts."
While China was not mentioned by the AUKUS leaders in their statements, the rationale behind establishing the alliance and a project to provide Australia with nuclear-powered attack submarines – possessing range, powerful capabilities & endurance to patrol the vast Pacific  – represents a decisive turn in a 'new' Cold War. It has been under way for some time, not only in the South China Sea, which Beijing would like to claim in its entirety, but also between the West and the Russia in other seas.
Russia and China have for some years been conducting joint naval exercises not only in the Pacific but also the Black Sea, Mediterranean and even in the Baltic. Such co-operation will no doubt increase, especially as Arctic Seas continue to thaw. Chinese submarines and surface warships will likely soon come over the top of the world, using new routes to make their presence felt in the North Atlantic alongside Moscow's most capable naval forces.
AUKUS is therefore not the only alliance already in play, not forgetting NATO. For decades the foundation of Western security, NATO must surely now contemplate an angry France pushing for greater European Union (EU) military and naval capability, along with more integration. We may soon see a EU-led defensive military pact seeking to rival anything in which the US and UK play a prominent role.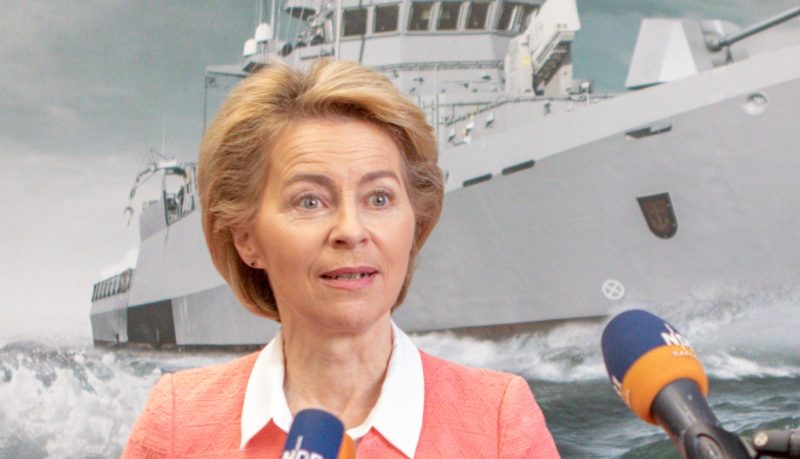 With the EU already smarting from its inability to shape the course of events during the US-led withdrawal from Afghanistan, the President of the European Commission – and former German defence minister – Ursula von der Leyen stated the day before AUKUS was revealed: "…what we need is a European Defence Union."