BRAZIL COMMISSIONS EX-RN HELICOPTER CARRIER
CHINA LAUNCHES A PAIR OF 'DESTROYERS' SIMULTANEOUSLY
PHILIPPINES EYES SUB PURCHASE
AUSTRALIA GREEN LIGHTS UAV PURCHASE FOR MARITIME PATROL
BRAZIL COMMISSIONS EX-RN HELICOPTER CARRIER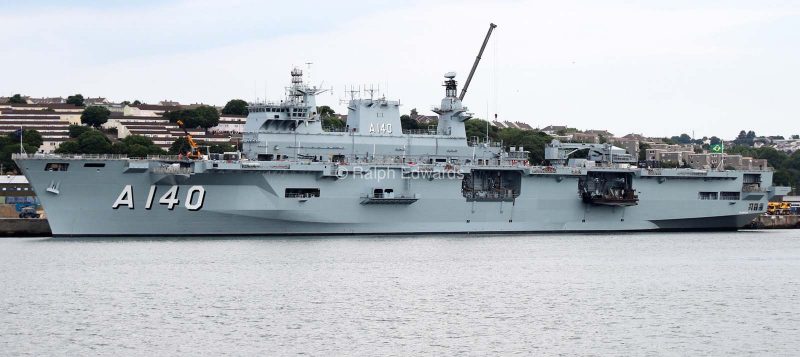 The former British helicopter carrier Ocean was commissioned into Brazilian service under her new name of Porta-Helicopteros Multiproposito (PHM) Atlantico during a ceremony at HM Naval Base, Devonport in Plymouth.
The ceremony was conducted without any media coverage in the UK, though the Brazilian Navy was more proactive with coverage in the ship's new home country. The Atlantico was purchased from the UK in a US $98.76 million deal in February this year and was upgraded and refurbished before being handed over to her new owners.
The discarding of HMS Ocean without a direct replacement has been a sore topic in the UK. The second of the new super-carriers, HMS Prince of Wales, is to take on the role, but there are fears that using a massive strike carrier in such a role creates undue risks – from mines and shore-based Anti-shipping Missiles (ASM) – during the insertion of an amphibious force.
Atlantico's modifications for service in the Brazilian Navy have included being fitted with Artisan 3D radar, KH1007 surface radar, remotely-operated guns and landing craft, but the Phalanx Close-in Weapon System (CIWS) that defended the ship in British service has been removed. Torpedo defence systems and light machine guns were also removed, though these may be replaced by similar systems of Brazil's choice. The helicopter carrier's future air wing will include various combinations of the SH-16 Seahawk, UH-15/A/B Cougar, UH-14 Super Puma, IH-6B Jet Ranger, UH-12/13 Esquilo, and AH-11B Super Lynx.
Atlantico is due to sail into her new homeport of Arsenal do Rio de Janeiro on August 25 after first being put through her paces in a FOST sea training period.
CHINA LAUNCHES A PAIR OF 'DESTROYERS' SIMULTANEOUSLY
The modernisation and expansion of the People's Liberation Army Navy (PLAN) continues apace, the latest manifestation of it being the simultaneous launch of two of new 10,000 tonnes displacement (Type 055) Renhai Class destroyers at the Dalian Shipbuilding Industry Company.
They are the third and fourth of a planned class of eight destroyers, six of which are at various stages of construction or fitting out. The first in the class was launched in June 2017 and the second in April this year.
The main role of the ships is understood to be as a multi-role carrier escort, and if they are as capable as some analysts predict they will be formidable components of Chinese strike groups – in themselves able to project power over considerable distances – as well as practicing sea dominance. Their size and displacement – some sources claim the full load displacement will likely be closer 12,000-13,000 tonnes – has seen them compared to the US Navy's Ticonderoga Class or the latest Arleigh Burke Class (Flight III) destroyers.
The Type 055 is by a wide margin China's largest and most capable destroyer design to date, featuring potent sensors – primarily on an integrated mast carrying AESA radar panels – and weaponry to detect and combat air, surface, and sub-surface targets. Consequently it is regarded by some analysts as approaching the capabilities of some of its Western counterparts.

The Type 055 is also understood to have a powerful long-range land-attack capability, which can be carried in the latest Chinese universal Vertical-launch System (VLS) design developed to carry a wide range of weaponry. The new warship is believed to have a total of 112 cells collectively in the VLS modules, distributed forward and amidships between the hangar and funnels.
The size of the universal VLS cells also ensures they will be able to fire larger diameter weaponry under development, probably including hypersonic missiles.
There is also potential for a Ballistic Missile Defence (BMD) capability. Most notably the new destroyers are also slated to be fitted with electronic rail guns and directed energy weapons when they become available.
PHILIPPINES EYES SUB PURCHASE
Long-standing submarine acquisition plans are inching closer to reality with the Manila government's approval of the next stage of the Horizon modernisation programme. It will increase the Philippines military's capabilities against external threats.
Running 2018-2022 and worth some US $5.6 billion, it covers a wide range of military equipment, but it is submarine acquisition hopes that are the headline grabber. This was initially a longer-term project (slated for 2023-2027) but has been accelerated in light of the pressing need to enhance the country's naval deterrent capabilities. Procurement of two submarines is under consideration and a detailed study of options is ongoing. Of the types likely to fit the bill, the Russian-origin Kilo Class diesel-electric boat is an obvious option previously reported as being of great interest, based on a preliminary Request for Information (RfI) in 2015 and media reports in 2017.
Although a Cold War design, the Kilo is still a highly capable submarine and the latest variant – the Project 636 Improved Kilo – would certainly suit the Philippines' operational requirements and (perhaps more importantly) its budget.
AUSTRALIA GREEN LIGHTS UAV PURCHASE FOR MARITIME PATROL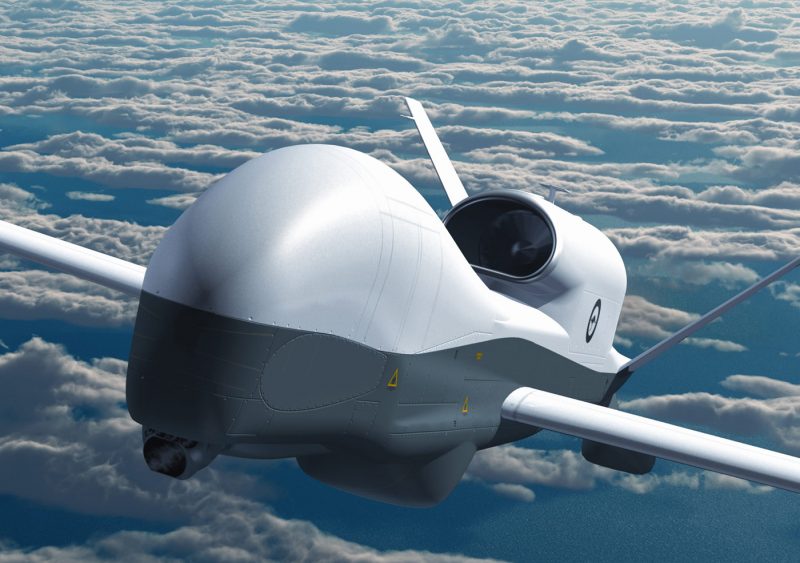 Canberra has officially selected the Northrop Grumman MQ-4C Triton UAV for its autonomous unmanned maritime patrol, reconnaissance, and surveillance requirement. Six platforms will be acquired in a programme that may eventually top Aus $7 billion, and they are scheduled to begin entering service in mid-2023, with all operational by the end of 2025.
The service entry of the first Triton coincides with the planned retirement of the Royal Australian Air Force's (RAAF's) last P-3C Orion Maritime Patrol Aircraft (MPA) which have served since the 1980s. It will also follow the service entry of the final P-8A Poseidon MPA (planned for 2022) with a dozen operational. Triton will complement the P-8A by casting a much finer net over the region, considerably enhancing Australia's anti-submarine and maritime strike capabilities.
Triton is able to fly at altitudes of 55,000ft and has an endurance of 24 hours during which it can survey an area of 40,000 square kilometres. Coupled with its advanced electro-optical and radar sensor package – capable of providing high resolution imagery and near real time video – the Triton will be a massive boost to Australia's ability to police its seas and wider area of maritime interest.