BRAZIL UNVEILS ITS FIRST SCORPENE ON ROAD TO A SSN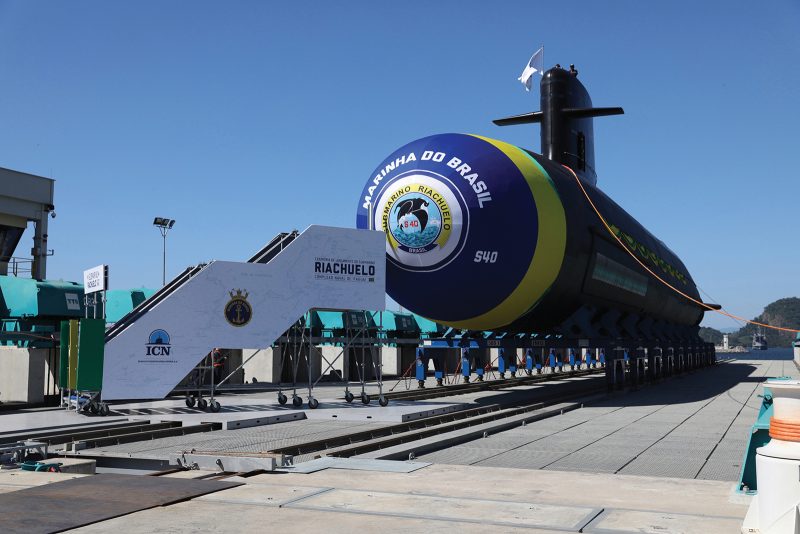 Brazil scored a notable achievement in its national history when the future submarine Riachuelo, was launched at the Naval Complex in Itaguai, Rio de Janeiro. The vessel is part of a US $9.9 billion deal signed in 2009 with the French defence giant Naval Group for indigenous construction and technology transfer related to four Scorpene (AM-200) type submarines, plus creation of a naval base and shipyard.
An additional agreement has been made with France for design and manufacturing assistance for the non-nuclear aspects of Brazil's future atomic attack submarine (SSN) programme.
Riachuelo was laid down at Cherbourg in 2010 – where the third and fourth hull modules were constructed. The remainder of the first craft, plus all sections of following subs are being produced in Brazil. Sea trials for Itaguai will commence in 2019 and delivery is to take place in 2020. The following boats – Humaita, Tonelero, and Angostura – presently in varying stages of construction will follow in 12 to 18 month increments. Humaita's launch is planned for September 2020.
The long-standing SSN project is closely linked with the civilian nuclear programme. Turbo-generator integration tests were undertaken in June 2018 involving a research reactor that is essentially also a prototype submarine power unit. A full land-based prototype is set for completion in 2021 and the first SSN is to be delivered in 2029.
INDIA LOOKS TO RUSSIA AGAIN FOR ATTACK BOAT
With the lease on the Russian Akula II Class SSN Chakra (ex-Nerpa) ending in 2022, the Indian Navy (IN) appears set to lease another. Inspections of two boats, Bratsk and Samara, have reportedly taken place in Russia.
The boats are 28-years-old and 23-years-old respectively, and have since 2014 been awaiting deep refit at the Zvezdochka shipyard in Severodvinsk. Despite their age it is thought they are capable of being extensively upgraded and Indian technicians may be allowed to observe the process.

This may well be of particular relevance to the IN's own future SSN programme. This appears to be experiencing problems, possibly with the reactor design – likely a Low Enriched Uranium type like that in the IN's Arihant Class ballistic missile submarine (SSBN). Launch of the first home-built Indian SSN is reported to be over a decade away.
A ten-year lease on a new SSN similar to that which was made for Chakra will reportedly cost US $3.3 billion. Chakra's lease in 2011 cost US $2.5 billion. The new deal is based on this contract but adjusted for cost escalations and is reportedly acceptable to the IN.
NEW MULTI-ROLE SURVEY VESSEL
Piriou Shipyard of France has delivered a new hydrographic survey platform to the Moroccan Royal Navy (MRN). The 72-metres Dar Al Beida is an oceanographic and multi-mission ship based on the company's B2M scientific research vessel design, presently under construction for the French Navy (Marine Nationale).
The French Navy Hydrographic and Oceanographic Department was tasked with the training of the Moroccan technicians who will crew the ship. Dar Al Beida is able to handle heavy sea states and has the endurance to operate across Morocco's considerable area of maritime interest.
LIFE OF CURRENT RAN SSKs IS LIKELY TO BE EXTENDED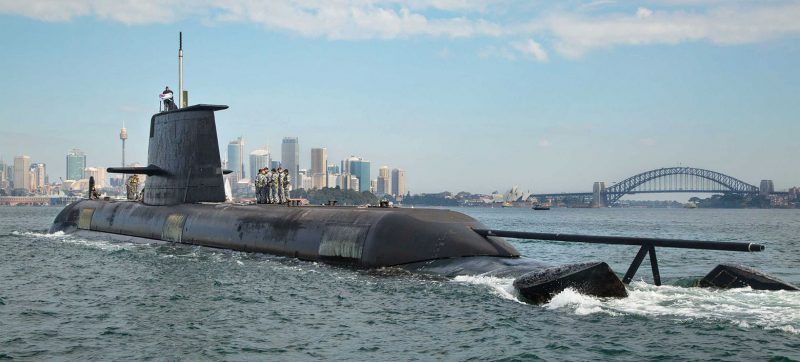 An extension in the service lives for possibly all six Collins Class submarines appears increasingly likely. The first of the Royal Australian Navy's (RAN's) proposed new generation Shortfin Barracuda Class may not enter service till 2035, three years later than expected.

Australian naval Chief, Vice Admiral Mike Noonan was speaking to the media during the Submarine Institute of Australia conference in November 2018 when he revealed the probable delays.  The first Shortfin Barracuda was scheduled to enter service in 2032, but should that not happen upgraded Collins Class submarines could soldier on. Extending their lives will maintain operational availability, sustain skilled manpower and support training programmes.