In the September 2011 issue – on sale from 12th August 2011
In a new series for WARSHIPS IFR, Mackenzie Eaglen and Bryan McGrath consider the implications for US defence policy of a decline in an increasingly inward-looking nation's sea power.
Pictured: Rise of a maritime power – USS Langley (foreground) and other ships of a carrier task force in the Pacific, December 1944. Photo: USNHHC.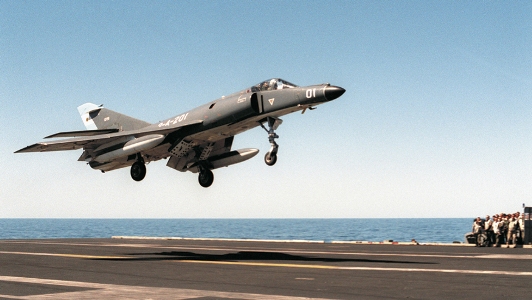 A survey of notable developments in aircraft carrier developments, including how Italy is applying the strike capabilities of the ITS Giuseppe Garibaldi to the Libyan campaign. We also report on China's plans for a maiden voyage by its new carrier, while Russia has outlined ambitions for a new nuclear-powered strike carrier and possibly a further five vessels of the same type. Meanwhile, the British carrier HMS Illustrious returns to Portsmouth after a refit, but will only serve in future as a helicopter platform. There is also a report on moves by Argentina to keep its carrier strike capability alive with the help of Brazil and the USA.
Pictured: An Argentine Navy Super Etendard lands on the USS Abraham Lincoln off the coast of South America. Photo: Tommy Lynaugh/US Navy.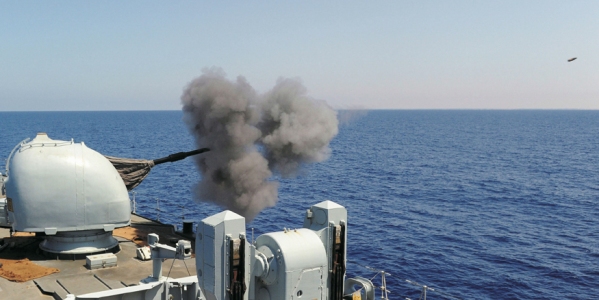 The Royal Navy has been hitting the Gaddafi regime hard off the coast of Libya, with a destroyer, mine-hunter and helicopter carrier all seeing hot action in recent weeks.
Pictured: A shell zooms away from HMS Liverpool during her fire mission last month. Photo: LA (Phot) Caz Davies/Royal Navy.
IS THIS THE KREMLIN'S ARCTIC FLAGSHIP?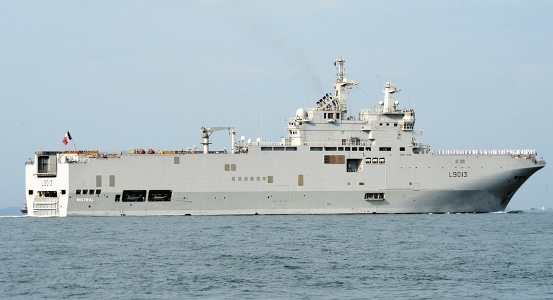 In light of the decision by the Russian Navy to purchase up to four French-origin Mistral Class Landing Helicopter Dock (LHD) warships Dr Dave Sloggett looks at the regeneration of the Russian Navy, particularly as the force looks to safeguard Kremlin claims in the Arctic region.
Pictured: The French Navy LHD Mistral at Singapore to take part in the IMDEX Asia 2011 Exhibition.  Photo: Guy Toremans.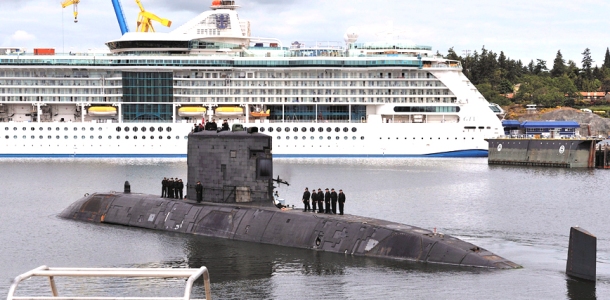 As a precursor to some news on a recent warfare exercise involving the Canadian submarine HMCS Corner Brook in the Pacific, Lieutenant Philippe Larrivee provides WARSHIPS IFR with an insider perspective on an earlier warfare workout that gave the US Navy more than it bargained for.
Pictured: Corner Brook makes a port visit prior to the warfare exercise.  Photo: MCpl Daniel Mallette/Canadian DND.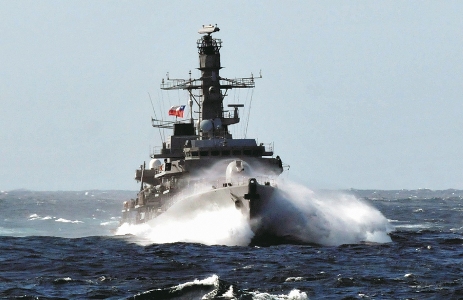 Reports and images from naval exercises: Off coast of South America and the eastern seaboard of the USA and in the waters of the Iberian Peninsula.
Pictured: Chilean Navy frigate Capitan Prat digs in prior to a UNITAS live-fire exercise. Photo: Stuart Phillips/US Navy.
ROYAL NAVY FLYING MILESTONES: THE PHANTOM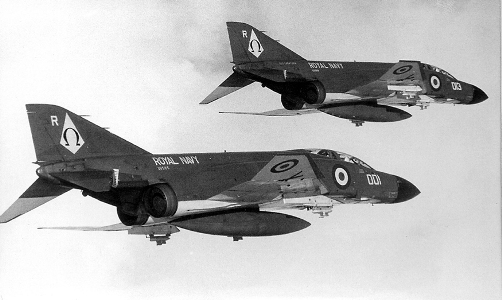 Maritime Aviation Correspondent Dave Billinge resumes our occasional series on legendary British naval aircraft. Here he profiles the amazing Phantom.
Pictured: A pair of RN Phantoms in flight. Photo: MacCartan-Ward Collection.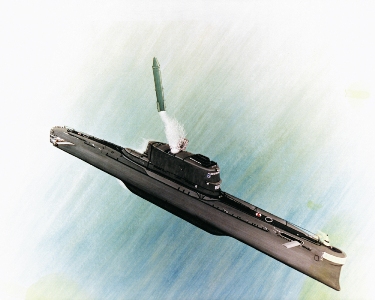 In this edition we look at various topics connected to broader matters of naval lifestyle, including getting fit to join the UK Armed Forces, how the European Parliament provided a showcase for a top UK artist, as well an interview with world-renowned naval historian Norman Polmar, who recently teamed up with film maker Michael White to produce a remarkable book entitled 'Project Azorian'. It lifts the lid on one of the most incredible events in naval history, namely the 1970s attempt by the CIA to lift a Soviet submarine from the ocean floor.
Image: US DoD.
BEHIND THE SCENES ABOARD ARK ROYAL IV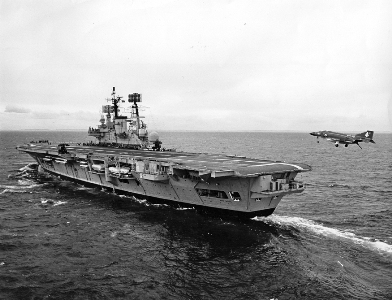 To support a review of the legendary BBC TV series 'Sailor', recently released as a restored DVD, we investigate the background to how the milestone documentary was put together.
Pictured: HMS Ark Royal IV recovers one of her Phantom fighters. Photo: Smith Collection.