NEWS
MOSCOW CONSIDERS NEW JUMP JETS & CARRIERS – P2
NAVIES – P4, P6, P8/9
• USN orders 'pause' following destroyer collision
• 'UK needs more warships'
• Strategic bomber launches ship killer
• Russian frigate engines problem solved
CUTLASS SHARPENS RCN PROFILE – P21
RAN VETERAN MCVS: A BRIDGE TO ROBOTS – P30
DESTROYER HOBART OPENS NEW ERA – P43
COMMENTARIES
THE DISEASE OF SHORT-TERMISM – P22/23
Future fleets cannot thrive without a long-term plan.
NEW UK STRIKE CARRIER
"THESE SHIPS WILL SAVE OUR BACON" – P3
QUEEN OF THE SEAS – P4/5
ODIN'S EYE – P7
Ship of state demonstrates determination & resolve.
NEW ELIZABETHAN AGE DAWNS – P24/27
Our special report on HMS Queen Elizabeth's maiden entry to Portsmouth.
LAYING DOWN THE GAUNTLET – P28/29
UK takes a lead in Exercise Saxon Warrior.
FEATURES & ANALYSIS
A 'CALIPHATE' OF TERROR AT SEA? – P10/11
As its land base crumbles ISIL may look to the oceans.
ART OF WAR ON THE MENU – P12/14
UNITAS 2017 provides various warfare lessons.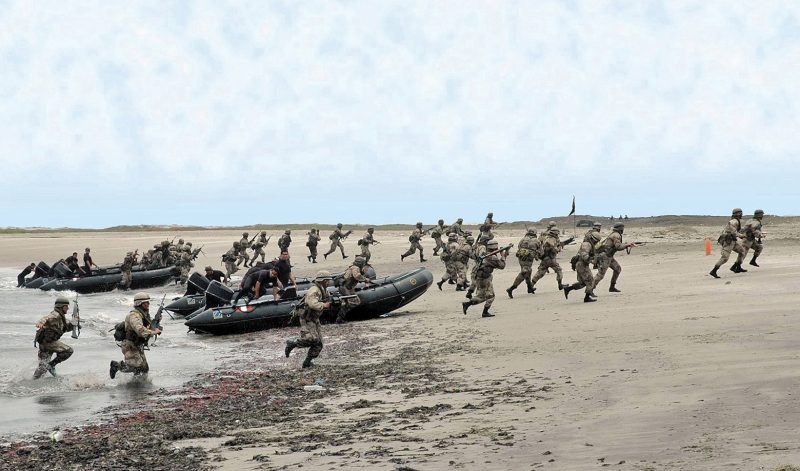 SAILING SHIP ENSURES PERU WALKS TALL – P15/17
The spectacular BAP Union's defence diplomacy mission.
WHERE DO CHINA'S AMBITIONS END? – P18/20
How will Beijing handle the possibility of war in the Korean peninsula & will making the South China Sea its Mare Nostrum be an error?
EUROPE'S MED FAILURE? – P32/33
Starkly contrasting views of Operation Sophia.
COAST WATCHERS IN CONCERT – P34/35
Europe's first ever exercise of its kind.
ROYAL NAVY TAKES THE HELM – P36/38
British warships lead NATO task groups.
TRIO HONE SKILLS – P40/41
Allied navies join forces at a time of tension.
THE INSIDE STORY OF SYRIA SHOOT-DOWN – P42
The view from the cockpit of a historic sortie.
SAVAGE SAVO NIGHT BATTLE REMEMBERED – P44/45
The sacrifice of Australian sailors in WW2 is marked.
FINALLY LAID TO REST – P46
The wreck of the USS Indianapolis is discovered.
BOOK REVIEWS – P47/48
Buy WARSHIPS IFR to read all of the above
Contents subject to change.