In the February 2012 edition:
US NAVY INSIGHT INTO CHINESE SUB FORCE
REVIEW WAS STATEMENT OF INTENT
AN ANSWER TO THE SYRIAN QUESTION
FOCUS ON RUSSIAN NAVY
FROM LIBYA TO OLYMPICS GUARDIAN
CASE STUDIES IN TERROR
READY TO PROJECT POWER
SMALL SHIP FOR BIGGER GLOBAL ROLE
ENDURING AUS-UK LINKS
SUBMARINE STEALTH HOLY GRAIL
PERSISTENCE YIELDS RESULTS
STEERING TO VICTORY
US NAVY INSIGHT INTO CHINESE SUB FORCE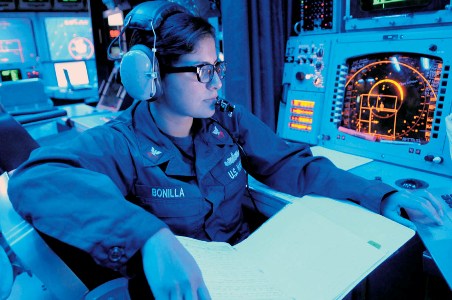 With every technological advance there comes both advantages and disadvantages. David Axe reveals that increased Chinese submarine activity has provided the US Navy with an opportunity to finally nail down the parameters of stealth in the growing PLAN sub-surface force.
Photo: US Navy.
REVIEW WAS STATEMENT OF INTENT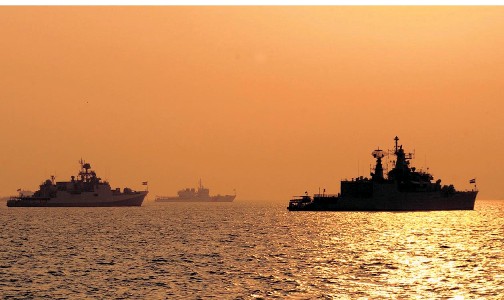 Special Correspondent Guy Toremans was there to witness a showcase of India's growing maritime might, as the Asian economic powerhouse stakes its claim to also being one of the world's leading naval powers.
Photo: Guy Toremans.
AN ANSWER TO THE SYRIAN QUESTION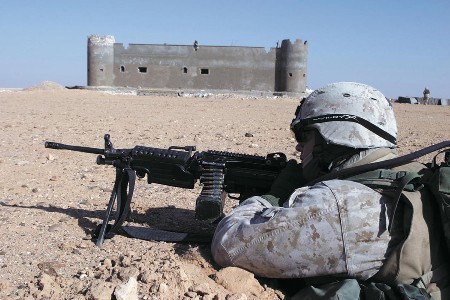 Francis Beaufort explores some of the political and military lessons of Libya and their impact upon any follow-up naval and air activity against Syria.
Photo: US DoD.
FOCUS ON RUSSIAN NAVY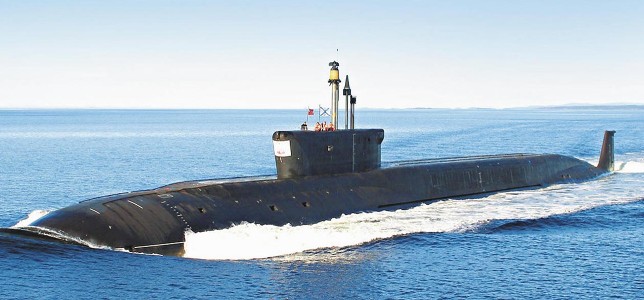 A news and pics look at a leading global maritime force seeking to re-establish a global presence two decades on from the end of the Cold War.
Photo:  SEVMASH.
FROM LIBYA TO OLYMPICS GUARDIAN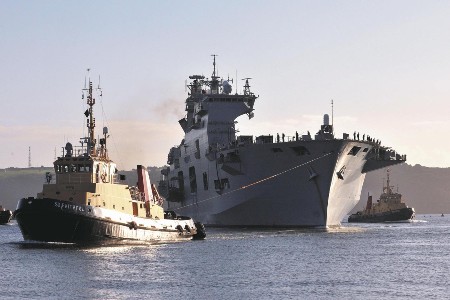 Last year saw the Royal Navy helicopter carrier HMS Ocean in action off the coast of Libya, launching strikes on Gaddafi regime targets via sorties by Apache helicopter gunships. This year will see Ocean on the Thames, a very visible safeguard for security at the London Olympics. She will be used as the hub for operations by the UK armed forces and law enforcement agencies. Charles Strathdee reports on the Ocean's triumphal welcome home to Plymouth following her Libya deployment and her role in the heart of the UK capital this summer.
Photo: Royal Navy.
CASE STUDIES IN TERROR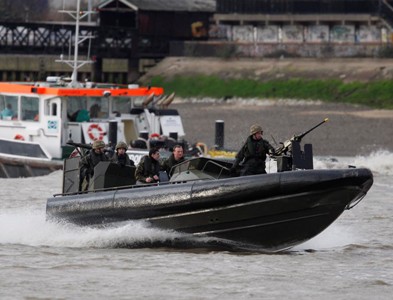 We weigh up the kinds of threats that British maritime forces, including HMS Ocean, HMS Bulwark and the Royal Marines can anticipate being vigilant against this summer during the Olympics.
Photo: Royal Navy
READY TO PROJECT POWER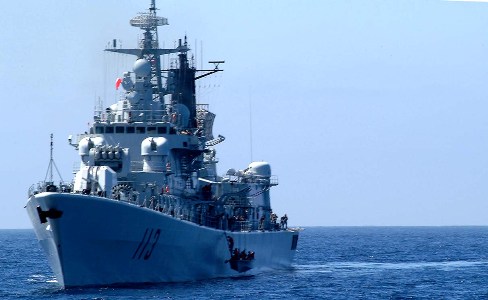 Chief Analyst Usman Ansari outlines how China's navy is already very capable of projecting power regardless of when, and if, its first fixed-wing carrier becomes fully operational as a strike platform.
Photo: US Navy.
SMALL SHIP FOR BIGGER GLOBAL ROLE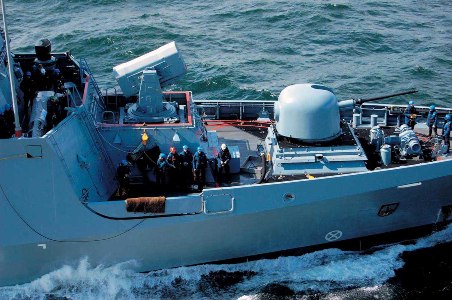 Special Correspondent Guy Toremans begins a two-part profile of the Braunschweig Class (Type K130) corvettes, which are a small combatant packed with plenty of capability to enhance the German fleet's worldwide reach.
Photo: Guy Toremans.
ENDURING AUS-UK LINKS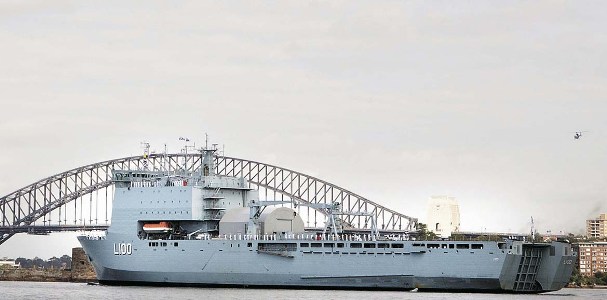 The former British amphibious ship RFA Largs Bay has reached Sidney as HMAS Choules, the latest addition to the Australian fleet, filling a yawning capability gap until two new assault vessels come into service.
Photo: Royal Australian Navy.
SUBMARINE STEALTH HOLY GRAIL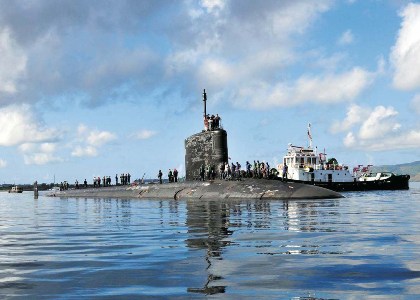 The idea of making a large submarine totally invisible to potential foes might appear the work of science fiction. But, as Dr Dave Sloggett and Charles Strathdee reveal, there are developments that might just make it achievable.
Photo: US Navy.
PERSISTENCE YIELDS RESULTS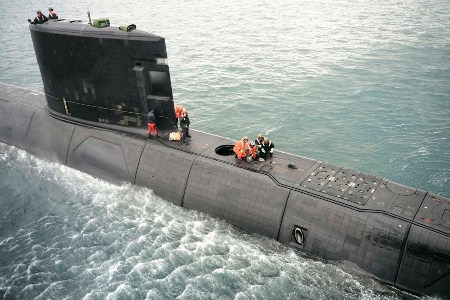 The Royal Canadian Navy acquired four Victoria Class diesel-electric boats – Victoria, Windsor, Chicoutimi and Corner Brook – in 1998 as a replacement for Oberon Class SSKs. We look at how the Canadians have persisted with a sometimes-troublesome programme and look at future operational plans for the boats.
Photo: Canadian DND.
STEERING TO VICTORY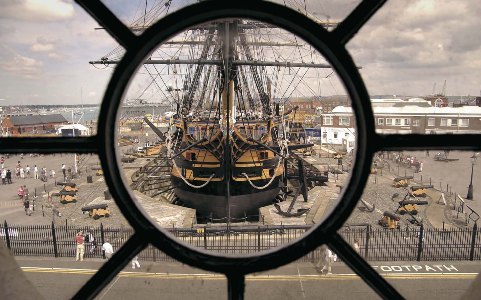 Yorkshire born Thomas Atkinson has won an illustrious niche in naval history, thanks above all to his part in the Battle of Trafalgar, as Master of HMS Victory. Rupert Butler tells the story of this remarkable sailor, his career brought to light thanks to the recent auctioning of medals in the UK.
Photo: Jonathan Eastland/AJAX.