BEIJING IS ADOPTING MOSCOW'S TACTICS
US MARINES RETURN IN FORCE
'TOP GUN' CARRIER'S VOYAGE INTO HISTORY
RUSSIANS GATE CRASH BALTOPS
NAVAL HERITAGE SPECIAL
'ROUGH RIDERS' AIM TO
MAKE LCS RUN SMOOTH
RUSSIA'S GLOBAL BOMBER FORCE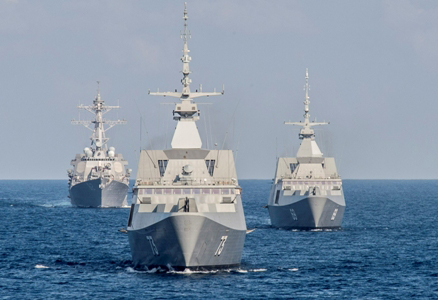 BEIJING IS ADOPTING MOSCOW'S TACTICS
Dr Dave Sloggett suggests China is deploying hybrid warfare techniques akin to those used by Russia in the Crimea and eastern Ukraine. Beijing's aim is to secure sovereignty claims across a vast area of ocean.
Photo: US Navy.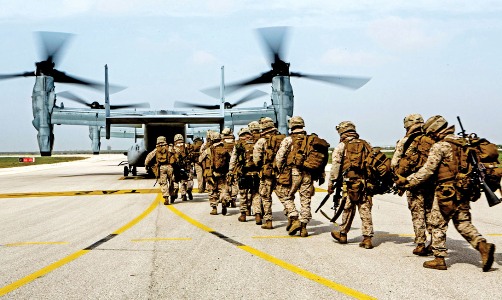 US MARINES RETURN IN FORCE
Usman Ansari reports on how the USA and Spain have amended their defence agreement to allow a permanent presence for American crisis response forces at Moron Air Base. It is part of an upsurge in the US Marine Corps and US Navy amphibious forces presence in Europe in recent months.
Photo: USMC.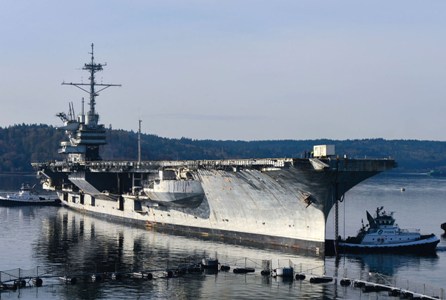 'TOP GUN' CARRIER'S VOYAGE INTO HISTORY
After more than 22 years in the 'ghost fleet' at the US Navy's inactive ships maintenance facility in Bremerton, Washington, the decommissioned aircraft carrier USS Ranger is making her final voyage – at the end of a towline. Thirty years ago she featured in filming for the Hollywood blockbuster 'Top Gun', starring Tom Cruise.
Photo: US Navy.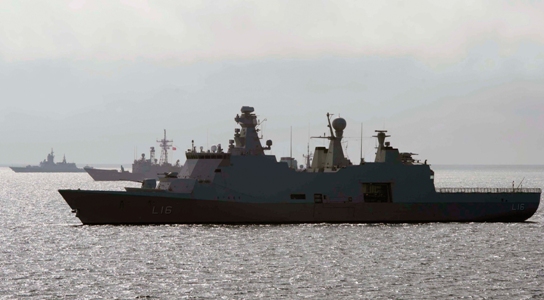 RUSSIANS GATE CRASH BALTOPS
Forty-nine warships and one submarine from 17 NATO members and partner countries were at sea for Baltic Operations 2015 (BALTOPS 15). Two Sukhoi SU-24 jets also overflew the BALTOPS GROUP while Russia's warships even 'photo bombed' a NATO photo exercise.
Photo: NATO.
NAVAL HERITAGE SPECIAL
An immersive experience on the Mersey while Manchester provokes profound thoughts and we report on the latest for Portsmouth's flotilla of historic ships.
Meanwhile, HMS Cavalier celebrates 72 years going strong while Plymouth is finally putting its vast naval heritage on the map.
Photo: Iain Ballantyne.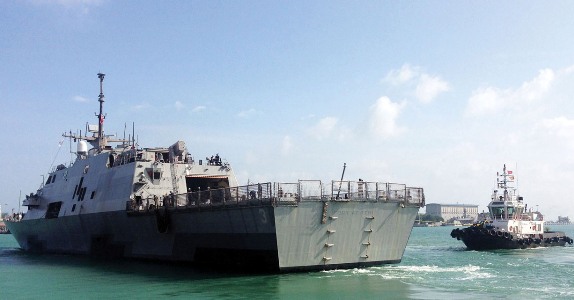 'ROUGH RIDERS' AIM TOMAKE LCS RUN SMOOTH
Special Correspondent Guy Toremans talks to Commander Matthew Kawas, Commanding Officer Crew 103 'Rough Riders' of the Littoral Combat Ship (LCS) USS Fort Worth.
Photo: US Navy.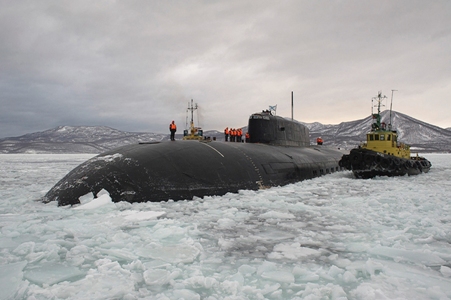 RUSSIA'S GLOBAL BOMBER FORCE
In the concluding part of his look at Russia's development of long-range strike capabilities, Dr James Bosbotinis considers the scope for a mix of conventional and nuclear attack.
Photo: Russian defence ministry.