RISE OF THE IRANIAN MIDGETS – Arab states of the Gulf are facing a growing submarine threat.
TURKEY'S AMPHIBIOUS AMBITIONS – Istanbul opts for an LHD like Australia's for power projection.
USN TO DEPLOY SECRET SEA BASE – The American navy is developing an intriguing new platform.
ON POINT FOR PACIFIC OUTREACH – Conclusion of our profile series on Australian bases.
TRAIL-BLAZING CENTRE – The Turkish Navy is seeking to lead the way.
THE WARSPITE LEGACY – We consider how the famous British battleship lives on.
And much much more!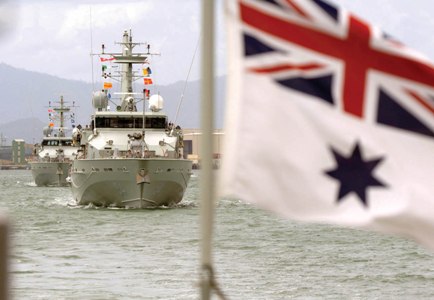 Armidale Patrol Boats of the Royal Australian Navy exit HMAS Cairns, a base that is profiled in our April 2014 edition. Photo: RAN.