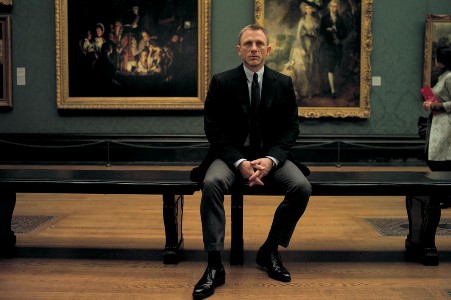 by Iain Ballantyne
An old naval wreck destined for the breaker's yard. After 50 years in commission, surely time to pay off the Bond movie series, what with younger action heroes, such as Bourne aspiring for the crown of ultimate spy?
In the latest (23rd) instalment since 1962, a bruised and battered – some would say washed up – Commander James Bond (Daniel Craig) sits in the National Gallery in central London, scrutinising another old naval warhorse.
A spotty-faced, bespectacled young man sits down beside Bond to also study J.M.W. Turner's 1838 masterpiece, 'The "Fighting Temeraire" tugged to her last Berth to be broken up'.
'Always makes me feel a little melancholy,' remarks the young man, 'a grand old warship being ignominiously hauled away for scrap.' He asks Bond directly: 'The inevitability of time, don't you think? What do you see?'
Irritated by his unwelcome companion, 007 growls: 'A bloody big ship.'
He gets up to leave but then the youngster introduces himself. It is the new Q – the British secret service's quartermaster, played by Ben Whishaw – there to provide Bond with a gun and a gadget.
They spar about whether or not age is a guarantee of efficiency or youth guarantees innovation. 'So,' asks Bond, 'why do you need me?' Q states that it is because every now and again a trigger has to be pulled. 'Or not pulled,' remarks Bond. That James Bond has endured (played since 2006 with new vigour by Daniel Craig) is an incredible testament to the brand. Bourne fell by the wayside years ago. The same could be said of the Senior Service.
Like Bond there are those who suggest the Navy is outmoded and should be taken away for scrap – who needs warships, submarines, missiles and carrier aircraft (and the people who operate them) in this modern Internet-era? As Bond remarks – and 'Skyfall' suggests – sometimes the traditional old-style solutions to the world's problems are necessary.
Sometimes only a 'bloody big ship' (or Cdr James Bond) will do. Which explains why Britain is building two new super-carriers and nuclear-powered attack submarines. And that is why the Royal Navy still trains young men and women to go overseas and deliver destruction to enemies and succour to friends in need. Bond is the same, especially so in 'Skyfall', at one stage presumed dead but coming back to life.
Just like the RN should never be written off neither should 007. After his presumed demise we peer over the shoulder of MI6 boss M (Judi Dench) as she writes the obituary of 'Commander James Bond RN' on her laptop. When the Bond series rebooted with 'Casino Royale' a new Service career history issued by the production company had Bond retired from the Navy, but in the Royal Naval Reserve (after service as a submarine officer and a special operations commando).
In 2012 Bond regains his regular Navy affiliation and when he gets in trouble this time around he whistles up three (ship-based) Fleet Air Arm Wildcat helicopters for a helping hand. Ian Fleming was of course, a naval officer in WW2, helping to oversee many outlandish and top secret operations against the enemy. It was all wonderful inspiration when he wrote the first James Bond novel 'Casino Royale' (published in 1953).
The movie series kicked off in 1962, with former Royal Navy rating Sean Connery playing Bond in 'Dr No' (actually the sixth in the novel series, published in 1958). The second movie, 'From Russia With Love' (released 1963) was based on the fifth in the novel series (published in 1957).
By that time Fleming was tiring of Bond – his health was not great and the strain of churning out a hit novel each year was telling. The sales of Bond books were also declining. However, things picked up again, and with the movie series sales remained buoyant and have been that way to this day. Fleming himself didn't get to enjoy much of it, for he died in 1964.
The Royal Navy owes Fleming a real debt, for after Admiral Nelson, Commander James Bond is the most famous naval officer in history (albeit fictional).
In an era of Sea Blindness, having such a high profile ambassador for traditional – and effective – solutions to the world's trickiest problems is a tonic for the Navy and the nation. And 'Skyfall' is enormously exciting, spectacular and the most British in terms of world outlook, cast, director (Sam Mendes) and settings ever. Bravo Zulu (navalese for 'well done').
PICTURED TOP

In 'Skyfall' Cdr James Bond RN (Daniel Craig) contemplates the fate of the old wooden wall battleship Temeraire in Turner's famous painting.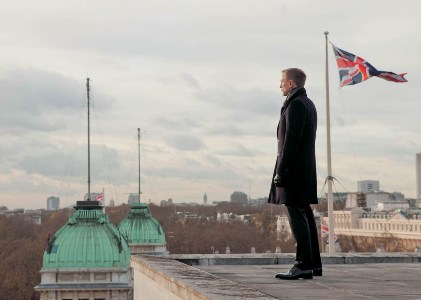 Bond ponders future missions on behalf of the UK. In the background is the Old Admiralty Building, one-time nerve centre of British global naval operations.
Photos: Francois Duhamel. Images ©2011 Danjaq, LLC, United Artists Corporation, Columbia Pictures Industries, Inc. All rights reserved.
• This article is to be published in the December 2012 edition of WARSHIPS IFR magazine (out November 16).