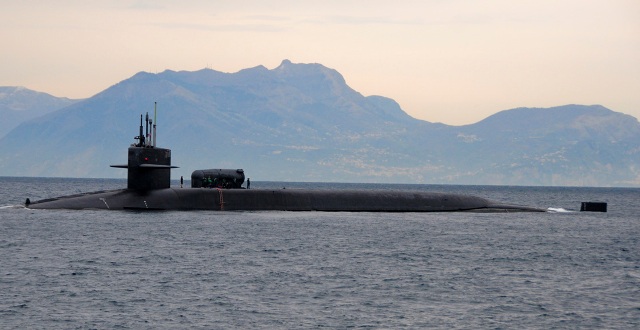 Exerts Overt & Covert Pressure on Gaddafi
Report by Iain Ballantyne
The art of gunboat diplomacy is not dead, except these days it comes in the dark and sinister shape of a nuclear-powered Ohio Class guided-missile submarine (SSGN) cruising in the spectacular surroundings of the Bay of Naples. This month (March 2011) the USS Florida made a rather meaningful appearance within sight of the lower slopes of Vesuvius – the volcano that smothered Pompeii with lava – no doubt carrying her full payload of 154 precision-guided Tomahawk Land Attack Missiles (TLAM), enough to bury Libyan dictator Muammar Gaddafi and his odious regime if need-be. Prominently displayed on Florida's outer-casing, just aft of her sail, was a dry-deck shelter of the kind used to launch Navy SEALS in their Swimmer Delivery Vehicles (SDVs) against a hostile shore – a somewhat more stealthy means of sending Special Forces to their target than noisy helicopters, as favoured in Libya by the British, whose troops were arrested by rebel forces and deported on a Royal Navy frigate PDQ.
Up to 60 Special Operations Forces (SOF) operators at a time can be embarked in an Ohio Class SSGN, quite comfortable alongside the boat's own 159-strong crew. Operated on an almost permanently forward-deployed basis, by switching crews and SOF complements regularly, Florida and her sister boats (Ohio, Michigan and Georgia) are a formidable force for any nation seeking a solution to covert power with an ability to decisively, and overtly, shape events on land. Aside from sheer firepower and Special Forces, the SSGNs each have powerful communications systems, including two High-Data-Rate antennas for, as the US Navy describes it 'significantly enhanced communication capabilities.' Furthermore, the USN has boasted: 'These additions allow each SSGN to serve as a forward-deployed, clandestine Small Combatant Joint Command Center- a new concept that will be fully tested in the first few SSGN deployments.' Having done that over the past few years in exercises, the deployment to 'poise' off the Libyan coast no doubt enables the SCJCC to be road-tested for real. The Florida's showboating in the Bay of Naples – a clear signal of intent – should have caused Muammar Gaddafi to pause for thought, even if the prospect of a No-Fly Zone had not halted his attacks on his own people. In 1986, the US Navy participated in air strikes against Gaddafi regime targets – and the dictator himself – for his enthusiastic support of terrorism, which had recently claimed the lives of a US serviceman and a German woman at a West Berlin disco, injuring a further 73 Americans. The disco outrage had followed a bomb explosion on an American airliner. When US Navy and US Air Force jets struck in April 1986, a bomb nearly took Gaddafi himself out, so even 25 years later he surely had not forgotten the long reach – and potential accuracy – of American seaborne strike power? Gaddafi's close call was of course before the cruise missile made its warfare debut in 1991, during precision strikes on Baghdad and targets elsewhere in Saddam's Iraq. America wielded not only surface warships and submarines armed with TLAM but also aircraft carriers capable of launching dozens of strike jets armed with precision guided-munitions. Saddam was ultimately deposed in 2003, when the USA decided again to unleash mass cruise missile and carrier attacks, and a full-scale invasion, to finish the job it started when ejecting Iraqi troops from Kuwait 12 years earlier.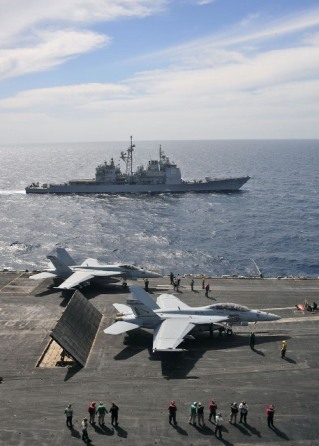 The careful build-up of appropriate naval force by the USA in spring 2011, as Libya's citizens became the latest to stage an uprising against oppressive non-democratic rule, was a very deliberate echo of the assembly of maritime might witnessed in 1991 and 2003. It was on a smaller scale, but in Libya's case the decision to order the carrier USS Enterprise into the northern Red Sea, from where her strike jets could reach targets such as Tripoli, depending on over fly-over rights from Egypt, spoke volumes to Gaddafi. In 2011, the USS Kearsarge passed through Suez and into the Med, the assault carrier and her accompanying amphibious group carrying around 2,000 US Marines as well as helicopters, landing craft and Harrier strike jets. It was another option for action – but surely to assist mainly with any provision of humanitarian aid or evacuation of civilians rather than go to war? The 'improved' Los Angeles Class attack submarine USS Scranton meanwhile called in at Augusta Bay, Sicily, the day after Florida made her run through the Bay of Naples. Naturally the official US Navy line was that Scranton, like all the other chess pieces moved prudently to within striking range of the North African coast, was deployed 'supporting maritime security operations and theatre security cooperation efforts in the US 6th Fleet area of responsibility.' However, Scranton's cruise missiles, like Florida's, would come in handy for taking out Libya's air defence network, key command and control systems and even Gaddafi's air force on the ground. Such an assault would be the essential precursor to any enforcement of a No-Fly Zone should the international community agree it was a worthwhile pursuit to support the rebels and persuade Gaddafi to halt the slaughter and abdicate. That unleashing of assembled naval power was not, however, up to the men and women in the submarines and surface warships loitering with intent. Their duty was to obey orders and execute the mission, if and when the moment came. In the mean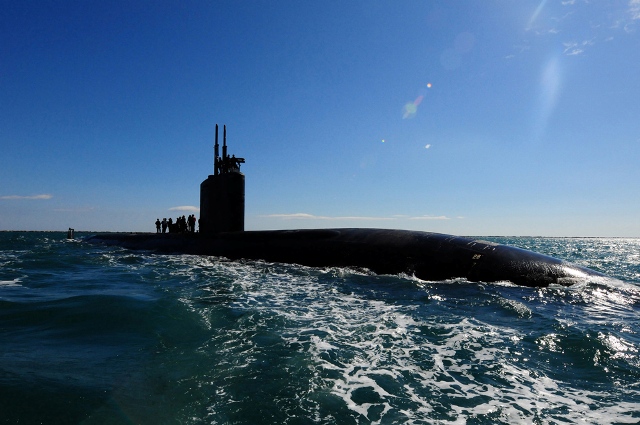 time, they waited at sea – on the surface and below it – a sword of Damocles poised above Gaddafi's head.

• This article also appears in the April 2011 edition of WARSHIPS IFR magazine. Don't miss it – Subscribe now!
• Iain Ballantyne is the Editor of WARSHIPS IFR magazine and also author of 'Strike From the Sea' (Pen and Sword Books, £19.99, hardback), which tells the story of the US Navy at war in the Middle East, from 1980s clashes with Libyan naval units, the raids on Tripoli, through Desert Storm to the Iraq War. His first visit to a US Navy warship was the USS Dwight D. Eisenhower, as the nuclear-powered carrier cruised off the Libyan coast in May 1990. 'Strike from the Sea' is available to purchase from Tandy Media Ltd, click here to go to our webshop.