To elaborate further on the Crimean naval base sea drones attack, which the Russians claim the UK had hand in (without any evidence)…
The interesting thing about Sevastopol (which I visited in late 1991) is that there are numerous points where amblers – if they are permitted to live within the city, which was very strictly controlled back then – can look straight down into key naval areas.
These include jetties for warships/submarines and construction/refit yards, plus out across the roadstead. Easy recce points for unobtrusive stroller. The first image here shows the Soviet Navy helicopter cruiser of the Moskva Class at anchor in the Sevastopol in 1991, which I am pretty sure I took, though I was also given some 'snaps' by 'defence sources' on the same visit, for use with articles at the time.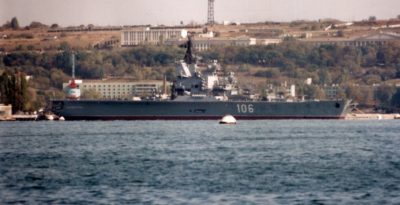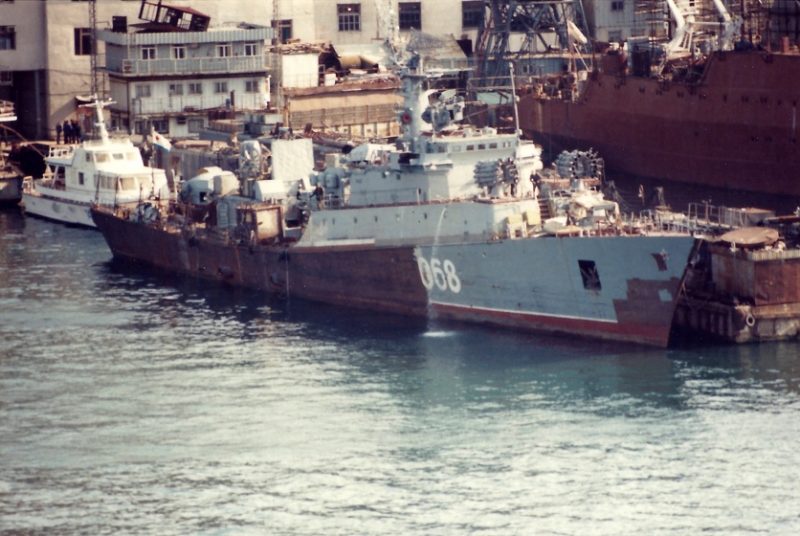 The same applies to the other image, of an anti-submarine corvette having work done in a Sevastopol yard and I well recall the day of my stroll up to the heights on the day that image was taken. But, I digress…
As we have reported in Warships IFR there have been numerous aerial drone attacks on Russian targets in the Crimea during recent months (including two on the HQ of the Russian Black Sea Fleet [BSF] in the city) plus also a major (and spectacular) sabotage mission against a naval air base.
Full facts on what exactly happened in Sevastopol this weekend may never be available but contributors to WARSHIPS IFR are working on trying to piece together at least some of the picture in 2022.
We want to at least know whether or not the BSF flagship RFS Admiral Makarov has been damaged, as might appear to be indicated by some of the remarkable footage shot from the 'attack drones' aka 'kamikaze' Uncrewed Surface Vessels (USV).
Click HERE to see this Channel 4 news report.

More on all this subject in the next edition of Warships IFR currently in production.