by Iain Ballantyne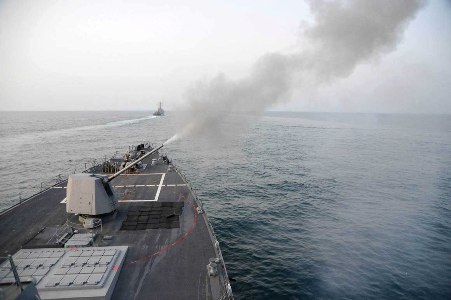 Wild threats of launching nuclear missiles against American naval bases, including Guam, and even the US mainland, along with a promise of all-out war against South Korea, stoked smouldering tensions in Asia-Pacific.
With salvo after salvo of warlike pronouncements fired off by Pyongyang, the world wondered if it was Cold War-style bluster by a new despot, keen to secure his position at home, or a very real indication of imminent conflagration.
The crisis erupted as the US Navy along with other American forces concluded a major exercise with South Korea which the North saw as one of many provocations, but which the Pentagon regarded as just sensible rehearsal for the possibility of a hot conflict.
"I'm not going to speculate on what we may or may not do," said Pentagon spokesman George Little. "Our desire is peace and stability on the Korean Peninsula. The North Koreans have two choices. They can choose the path of peace or they can choose the path of provocation. One is better than the other for everyone involved, including the North Korean military and the North Korean people."
Furthermore, Little explained: "We hope to avoid miscalculation. We think we can. The North Koreans simply need to dial the temperature down."
The blue touchpaper for the latest spike in tension was lit in early March when the United Nations Security Council (UNSC) voted to impose sanctions on North Korea for its February nuclear weapons test. Pyongyang immediately threatened to avail itself of the right to launch a pre-emptive nuclear strike against the USA.
The severing of a hotline between the North Koreans and South Koreans – meant to be used in order to cool things down – immediately followed this.
The North and South are still technically at war, for a ceasefire only was imposed at the conclusion of the Korean War in the 1950s rather than a formal agreement ending the conflict.
New boy North Korean dictator Kim Jong Un declared that war could break out at any moment and in late March a concerted cyber attack was launched against South Korea. So far, so familiar during past crises, but on March 29 Kim met with his generals and signed orders to prepare missiles for attacks on Guam, Hawaii, South Korea and the US mainland. It is thought Alaska is the only part of the latter that can be reached by North Korean missiles, if indeed they can fulfill their claimed capabilities.
Just in case North Korean weapons really can, 14 additional ground-based ballistic missile interceptors at Fort Greely, Alaska, and Vandenberg Air Force Base, California were placed at a higher state of alert. Meanwhile, Kim stormed: "The time has come to settle accounts with the US imperialists."
To most people, looking on with bemused horror, such statements and actions seemed like something from the worst days of the Cold War, or an imitation of the satirical puppet movie 'Team America' (in which Kim's father was mercilessly lampooned for threatening world destruction).
The North Koreans have recent form when it comes to aggressive action. They have sent suicide teams in mini submarines against the South Korean coast and even unleashed intense artillery bombardments of Korean marine bases on islands in disputed maritime zones. They deployed a submarine to torpedo the ROKN corvette Cheonan, with 46 sailors killed and 58 rescued when she was blown apart in late March 2010.
This year the situation has not been improved by the North Korean foreign ministry issuing threats that it will respond to South Korean or US 'provocations' with no warning, adding that its actions will not be restricted just to conventional assault but will embrace 'all-out war, a nuclear war.'
Presumably listed among the so-called 'provocations' was a flight over South Korea by US Air Force B-2 strategic (nuclear capable) stealth bombers that staged a training mission all the way from the USA as part of Exercise Foal Eagle 2013. At sea during March the US Navy's Destroyer Squadron (DESRON) 15 joined forces with ROKN units for the maritime phase of Foal Eagle.
The destroyers USS John S. McCain, USS Fitzgerald, USS McCampbell and USS Lassen spearheaded the USN contribution. The USA does number among its forward-deployed warships in the Asia-Pacific region AEGIS-equipped units armed with systems and missiles that offer an Anti-Ballistic Missile (ABM) capability.
As DESRON 15 went through its paces with the ROKN, on land the chairman of South Korea's Joint Chiefs of Staff and a US Army general who commands American troops stationed in theatre, signed what the DoD described as 'a combined plan to counter future threats from North Korea.' Called the Combined Counter-Provocation Plan its development was initiated in the wake of North Korea's artillery assault on Yeonpyeong Island in late November 2010.
A feature of the international community's attempts to defuse the threat posed by the North Korean rogue has been the use of carrot (aid for the poverty-stricken military state) or sanctions and robust defence of South Korea. The aim has been to persuade the North Koreans to give up their nuclear weapons programmes, but this all appears to have come to nought. On March 31, the ruling council of the Workers' Party declared that nuclear weapons are the lifeblood of the nation and would not be given up 'even for billions of dollars'.
A few days later North Korea revealed it had set in motion plans to resume uranium enrichment and also restart a plutonium-fuelled reactor.
The same day an exasperated Pentagon urged Pyongyang to cease its provocations but the USA itself stood accused of turning up the heat.
It deployed its Sea Based X-band (SBX) radar station off the coast of Japan.
This immensely capable system – which looks like an oil platform with a massive white dome mounted on it – can track ballistic missiles much more effectively and earlier in flight than waiting for other systems based on land or in warships.
Ultimately it proved to be another bluster-blitz by North Korea. In early May they looked to have withdrawn a pair of medium-range missiles from a launch site on the east coast of the peninsula.
What exactly Pyongyang had gained was unclear, for the sanctions imposed by the UN following its recent underground nuclear weapons tests are still in place.
During a bilateral summit in Washington D.C. President Obama and South Korean President Park Geun-hye issued a joint statement calling for the North to 'pursue a peaceful path'.
President Obama added: "If Pyongyang thought its recent threats would drive a wedge between South Korea and the United States or somehow garner the North international respect, today is further evidence that North Korea has failed again."
Pictured Above: The destroyer USS McCampbell fires her 5-inch gun at a target drone during Exercise Foal Eagle 2013. Photo: US Navy.