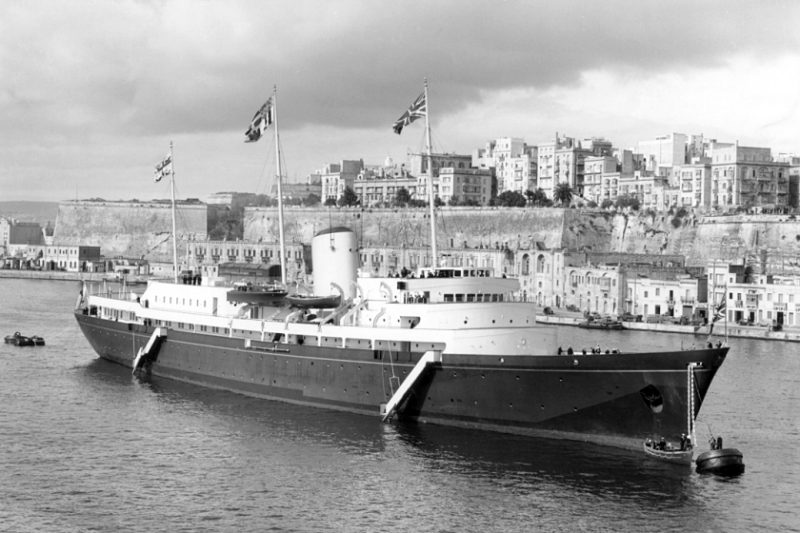 There are practical uses for a Royal Yacht, such as a hospital ship in times of war, though HMRY Britannia never performed that role. The UK does badly need to up its game in intelligence-gathering vessels, so the new idea floated of the proposed future national flagship adopting a 'national security role' – which means exactly what UK government? – might be a welcome development.
Though, of course, this could not be a Royal Yacht. If it was a 'spy ship' no nation would allow such a vessel come alongside anywhere near its key strategic zones. Its ports of call could be limited to out of the way places, such as coal wharves or remote oil jetties/container ports. Or just a buoy in an unremarkable harbour. Or denied access completely (most likely), which would hardly suit a defence diplomacy objective.
According to the Financial Times, which broke this latest angle in what is a long-running saga, the Ministry of Defence itself denies the successor to the Royal Yacht Britannia would be such a vessel – despite someone in high places mooting the 'national security role'!?
Apparently, according to the FT, the MoD suggests the new vessel would only carry a standard fit of communication and security features, so not for intel-gathering. Therefore, what would the new vessel be about? A glorified Offshore Patrol Vessel (OPV) with extra bling? A floating gin palace Royal Fleet Auxiliary (RFA) with the ability to refuel warships on the move? Or a palatial dry stores vessel?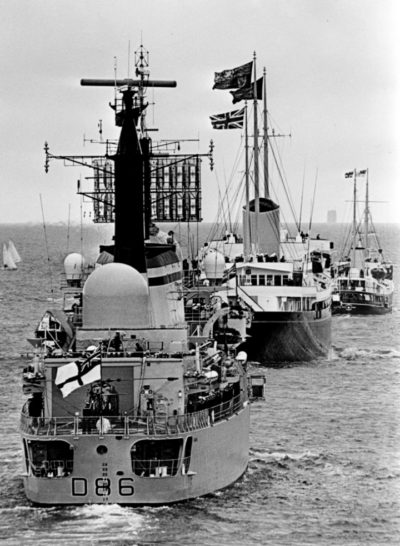 The UK does need more OPVs, more RFA support vessels and sorely lacks 'spy ships' but not any that double as trade-promoting floating embassies (supposedly a major function of the future Royal Yacht). Apparently the idea of a 'national security role' is to get around World Trade Organisation (WTO) rules and regulations that prevent the UK from just awarding the contract to build a new Royal Yacht to a British yard.
If the future Royal Yacht is purely for civilian purposes then the contract to construct it must be open also to foreign shipyards. The 'national security ruse' is possibly to avoid the embarrassment of the UK's high seas standard bearer being built by an overseas yard.
Confusion abounds with this project – after all such a future vessel is already meant to be operated by the Royal Navy anyway, so would not be 'a civilian vessel' anyway. According to the FT, whatever type of ship ends up being commissioned, it will not be capable of sailing up inland waterways to reach Paris, Berlin, Madrid, Moscow of Rome.
That's a bit of an ermine-clad red herring. Not sure that any major vessel manages that feat these days, and while I did see the Royal Yacht Britannia go up the Caen Canal and have observed the Norwegian Royal Yacht manage that feat too, it is a rather short, straight waterway, well surveyed and dredged. Hopefully any future Royal Yacht will be able to safely visit St. Petersburg, Singapore, Sydney, New York, Lisbon, London et al? You know, well-known ports for large sea-going vessels.


For a debate on the pros and cons of a new Royal Yacht – and whether or not it would be better to just build an additional Type 26 frigate for the Royal Navy – give the new WARSHIPS IFR podcast a listen. On it our Editor, Iain Ballantyne, and Associate Editor Peter Hore discuss the future Royal Yacht and other naval topics.
We also chat about a whole host of other topics, including UFO encounters between #naval vessels and aircraft.