by Guy Toremans in the Gulf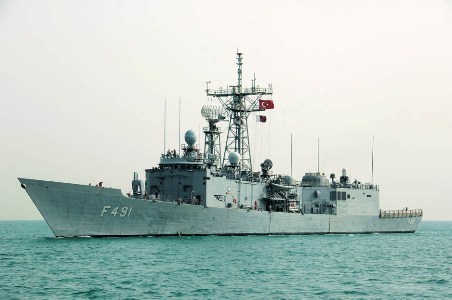 A senior NATO naval officer has called for greater participation by regional nations in the fight against the scourge of piracy. Rear Admiral Sinan Azmi Tosun of the Turkish Navy is currently Commander Standing NATO Maritime Group 2 (SNMG2) and in charge of Command Task Force 508 (CTF-508), prosecuting the defence alliance's Operation Ocean Shield. SNMG2 is currently committed to operations in the Gulf of Aden, wider Indian Ocean and Arabian Sea. At the time of the admiral's remarks his flagship was the frigate Giresun (Turkey), the rest of SNMG2 being comprised of the Danish multi-role warship Absalon, and frigates De Wert (USA) and Grecale (Italy).
During an interview aboard his flagship, Rear Admiral Tosun said he would like to see greater participation by regional nations, as this would inevitably make NATO efforts more efficient. "Many piracy incidents still occur close to territorial waters of the regional countries," explained the admiral. "Pirates generally attempt to flee into these waters in order to hide among the fishing vessels and know very well that we are not authorised to enter those waters. So, without support of these nations, it is almost impossible to neutralise pirates."
The admiral said NATO makes great efforts to establish contact with "local authorities to look for potential areas of practical cooperation." He expressed pleasure that "concrete results" had been achieved via working with some regional nations, such as the Seychelles, Oman, Yemen, Kenya and Tanzania. Rear Admiral Tosun revealed this has been based on "improved cooperation in information sharing and situational awareness." However, he said that greater engagement with Somalia "and [its breakaway region of] Puntland in particular, is essential, because it directly addresses the state where pirates operate from. It is one of the key procedures [needed] to contain and deter the growth of piracy plague in the area. CTF-508 has built up a good tactical level relationship with the Puntland authorities and local clan elders. The cooperation is arranged through the meetings, telephone conversations and e-mail exchange."
However, deeper co-operation is desired, and the admiral is clearly well aware of the valid issues that can prevent better regional cooperation.
"Because most of these countries are deprived of assets to effectively patrol their sovereignty areas, we should focus more on capacity-building programmes," the SNMG2 boss suggested. "The countries must be motivated and supported to increase the number of their naval assets and effectiveness. I am confident that then these nations will become capable of effectively patrolling their territorial waters and prevent pirates from them to hide or launch attacks."
• The full interview with Rear Admiral Tosun is being published in the July edition of this magazine.
Pictured:
Top – Flagship of Rear Admiral Azmi Tosun, the Turkish Navy frigate TCG Giresun, in the Gulf at DIMDEX 2012. Photo: Guy Toremans.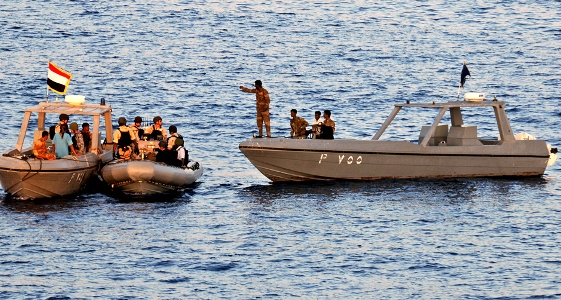 Above – US Navy sailors in a Rhib from an American warship assist two Yemen Coast Guard patrol craft that ran out of petrol during anti-piracy duties. Photo: US Navy.