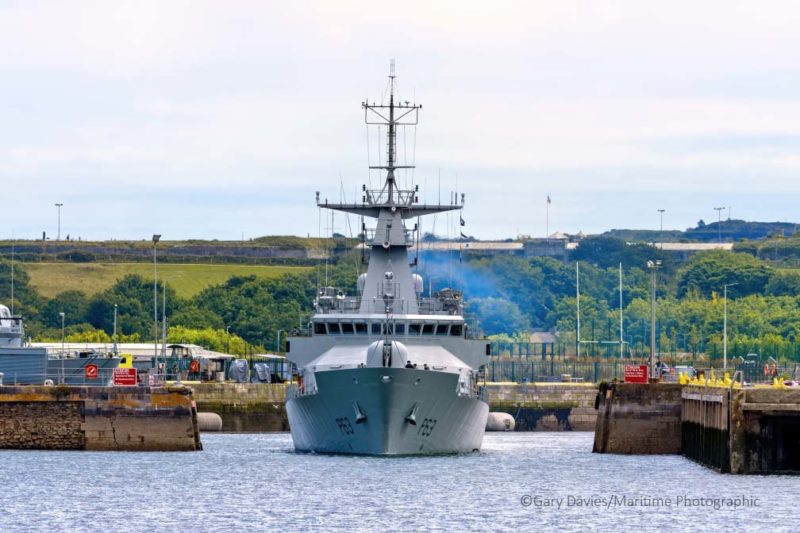 There are key areas of maritime security where Europe is dithering, or simply doesn't pull its weight, meaning that without the USA's military it cannot defend itself.
Ireland's navy being caught in a spiral of decline (despite having some modern warships) is a prime example of how maritime defence can easily wither.
A joint operation last month (Sept) by the Irish Naval Service (INS) in co-operation with Ireland's tiny Special Forces, its plucky, but not very capable, Army Air Corps, and law enforcement bodies, to intercept a consignment of drugs off Irish shores, saw LE William Butler Yeats use its main gun to put a warning shot across the bows of a fugitive vessel. See P6. However, the majority of INS vessels are stranded in port, unable to put to sea due to lack of sailors and also, to be frank, a sheer lack of interest in funding Defence properly in the European Union's most westerly state. See P30/32 in the November 2023 issue for more on the current state of the Irish Naval Service.
It is symptomatic of some European nations not taking their obligation to be able to defend themselves seriously, let alone responsibilities towards friends. Ireland being perched on the western extremity of Europe may delude some into thinking it is far from war and instability on the Continent, and hence can afford to wallow in idealistic neutrality or even pacifism.
The Russian threat and transnational crime demonstrates this is not an ideal world, though, and when others have to step in to pick up the defence mantle, neutrality and pacifism are selfish. However, while Ireland is not in NATO – so cannot be easily cajoled into spending a minimum of 2.5 per cent of GDP on Defence – the EU could surely do something about it? A major reason for action is Ireland's proximity to the densest concentration of trans-Atlantic subsea communication cables – 75 per cent pass through or near Irish waters. It is also responsible for 16 per cent of the EU's territorial waters. It has an EEZ of approximately 132,000 square miles, and, as the huge drugs bust indicated, is a prime landing spot for the trans-Atlantic cocaine trade with Europe. This all suggests Ireland needs a robust navy. But that isn't the case because Ireland doesn't want to pay for it, despite being the fifth richest global economy measured by GDP per capita, and first in Europe. Even if this figure is wildly distorted by Ireland-based foreign multi-nationals, and Ireland's real ranking is between eighth and twelfth in the EU, it is still rich enough to fund a more capable navy.
The present 0.3 percent of GDP it spends on Defence simply doesn't cut it. It is possibly the worst militarily prepared state in Europe, reliant on the air force of non-EU Britain for protection of its airspace, and the Royal Navy for maritime security assistance.
SPEAKING after the recent drug bust, Michael O'Sullivan, former assistant police commissioner, and one-time head of the EU anti-drug smuggling agency (the Maritime Analysis and Operations Centre) described Ireland's navy as the "unsung heroes of Europe." He said Europe was "much dependent on the Irish Naval Service monitoring, tracking vessels and even intercepting vessels, so the more assets they have available, the better it is all round for everybody."
O'Sullivan highlighted that smugglers like to take the path of least resistance, and are always delighted by fewer patrol vessels off the Spanish or Irish coasts. The drugs bust success aside, by running its navy into the ground, Ireland is making it easier for smugglers, and with no subsea defences to speak of, Russia has an open goal to tamper with cables. And, as events have shown since early 2022 the Russian Navy likes to go and flex its muscles with exercises off Ireland's southern and western coasts.

The EU is the only organisation that can force Ireland to confront its defence responsibilities by demanding member states have a minimum set of capabilities for national and collective defence.
It could either fund military modernisation for some of the poorer states, or in Ireland's case demand it get more patrol vessels to sea. It could even assist Ireland in expanding its capabilities. Ireland may still want to maintain its militarily neutral stance, not doing proper war-like tasks such as hunting submarines, but a potential future patrol vessel could be a variant of the European Modular and Multirole Patrol Corvette. It could be 'fitted for but not with' Anti-ship Missiles (ASM) and Surface-to-air Missiles (SAMs), meeting both collective EU defence obligations, while not giving up (non-NATO) neutrality. However, a sonar suite and means to prosecute underwater targets is a must to safeguard trans-Atlantic data cables. There is, of course, no point in having a fleet if there are no people to operate its ships, a problem that afflicts many navies, which struggle to recruit and then retain sailors.
If Ireland still refuses to pay its sailors adequately to stop them jumping ship to civilian jobs in droves, then it could leverage maritime autonomous uncrewed systems being developed by some of the larger EU states. Supporting a bigger, more capable navy is an issue for other EU states too.
Where they cannot fund acquisition themselves this should be met by EU funds.
The Baltic States are boosting their military capabilities, but much of that is land-based due to their border with Russia. Uncrewed systems would allow them to boost their maritime footprint and ability to contribute to collective and regional maritime security beyond their present niche counter-mine capability.
Unmanned systems could also help Germany, which should be one of the EU's big naval hitters, to boost its maritime power generally and presence in the Baltic.
Anti-surface and sub-hunting drones would help reinforce other member states, especially Poland and Sweden that look like they will be performing a key role in deterring Russia from adventurism. Protection of Baltic subsea infrastructure would certainly be more effective. Bulgaria and Romania are front line maritime states too, what with naval war raging in the Black Sea. They have done a valiant job in countering the mine menace, and Romania has procured two ex-Royal Navy mine warfare vessels, the recently retired HMS Pembroke and HMS Blyth. Romania and Bulgaria are already grinding through long drawn out naval modernisation programmes, and additionally need to re-establish capabilities lost since the Cold War, such as their submarine arms. See our September 2023 edition for a Q&A with the boss of the Romanian Navy. But neither of them can properly deter Russia alone. Taking the lead from Ukraine, which is the global leader in the operational application of uncrewed systems, some of their requirements could be met that way.
Certainly operational footprint would be more quickly boosted via adoption of uncrewed systems.
Beyond capability and equipment enhancement the EU could better co-ordinate collective efforts tackling instability in the Baltic – as a support to NATO – and so ensure all its member states share the burden rather than just those geographically present.