Commentary – Odin's Eye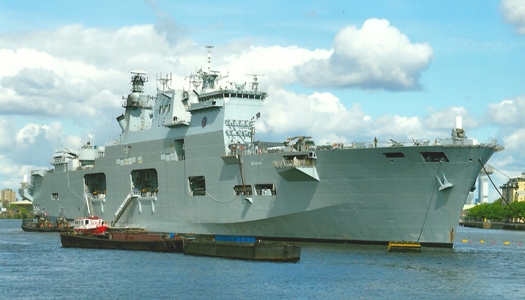 There were two big meets involving navies last month (July), one spanning vast stretches of the Pacific, the other in rather more confined waters of Weymouth Bay and the River Thames. One had a substantial British naval presence and the other just a token gesture. Exercise Rim of the Pacific 2012 (RIMPAC 2012) was the largest, most spectacular ever staged. The Royal Navy did get a mention in RIMPAC's credits but the UK's only presence was personnel on a task group command staff.
As an active player in the Five Power Defence Agreement with Asia-Pacific nations you would have expected the British to send a warship. This doesn't mean the RN is guilty of a no (medal) show though, but rather that its fleet is now so small and overstretched it is unable to pursue all UK global security interests.
The RN still manages to exert a significant presence in waters off Arabia and the South Atlantic. As the London OIympics got into their stride the new Type 45 destroyer HMS Daring returned to Portsmouth after completing her maiden operational deployment to the Middle East. She spent 139 days at sea, steamed 34,642 nautical miles, and visited 12 different countries. Daring put in a gold medal performance and now sister ship HMS Diamond has picked up the maritime security baton East of Suez. Meanwhile, the nuclear-powered submarine HMS Triumph returned to Devonport after ten-and-a-half months away, surely another gold medal winning performance? Triumph fired Tomahawk Land-Attack Missiles (TLAM) at Gaddafi regime targets in Libya, visited the Gulf, where she took part in international exercises and, like Daring, called at ports in the region. No doubt she also gathered vital intelligence on the activities of pirates and terrorists while keeping an eye on the increasingly aggressive Iranians. Off the coast of Weymouth and Portland, where the Olympic sailing races were being run, the Royal Navy Fleet Flagship (and Landing Platform Dock) HMS Bulwark was visited by Phil Hammond, Secretary of State for Defence. Bulwark was a floating headquarters for security operations. Even Prime Minister David Cameron paid a visit to the helicopter carrier HMS Ocean, moored at Greenwich Reach in the Thames. She was acting as a helicopter operating platform, command and control centre, and a logistic hub in support of security for the London games. She also accommodated over 1,000 military personnel. Cameron spent only an hour in Ocean. Hopefully someone whispered in the PM's ear that Ocean and Bulwark (over and above acting as bases for counter-terrorist operations) are also capable of operating in many other roles useful to the UK.
For example, she was in combat action off Libya last year, launching Apache attack helicopters. Bulwark's sister vessel Albion performed a number of roles from off Libya, to the Eastern Mediterranean, East of Suez and back. Today Albion is mothballed due to Cameron's defence cuts. With Syria aflame the sole surviving Invincible Class carrier, HMS Illustrious, is about to take part in exercises off the Levant, but has no Harriers to increase her flexibility to intervene with a light footprint. The PM hates being reminded of the cardinal error he made in getting rid of UK strike carrier capability for a decade while the Queen Elizabeth and Prince of Wales are built. Nobody could accuse him of not being aware the sailors and Royal Marines who filled in for inadequate civilian security provision were giving up much needed summer holidays with their families following hard service in Afghanistan and elsewhere. The same applied to the aviators of the Sea King Mk7 airborne surveillance helicopters flying over London and other Fleet Air Arm (FAA) rotary-wing aircraft over the South-East of England and Dorset (not forgetting their support crews). Not content with winning gold for their stamina, physical and mental endurance on the Olympics security front, the Royal Navy also had people garnering glory as athletes in pursuit of medals. There was a well-deserved rowing gold for naval officer Pete Reed in the men's coxless four. The Marine Engineer Officer (MEO) had already won Olympic gold at Beijing and successfully defended his title alongside Alex Gregory, Andrew Triggs Hodge and Tom James. Before the race Lieutenant Reed paid tribute to the lessons of Britannia Royal Naval College: "At Dartmouth, I learned about team work, determination, dedication, and enthusiasm – and those qualities are exactly what I'm using every day to get the job done."
There were other Royal Navy people involved in the Olympics story across the UK. They included Lance Corporal Cassidy Little of the Royal Marines, a wounded Afghan veteran, who carried the Olympic flame through Peterborough, while fellow green beret Chris Sherrington did well in the Judo but did not get on the podium. In the end the politicians who made such a mess of Olympics security arrangements in London they had to draft in thousands of soldiers, sailors, marines and airmen to fill the gaps deserved only plastic medals (if that).
Accommodated in pretty raw conditions – sleeping on camp beds amid stinking toilets, using plastic crates as washbasins, eating basic food – the troops endured and smiled through it all, glad to serve their country. It was another gold medal performance, which no UK politician could ever come close to matching.
Pictured Top: HMS Ocean on the Thames during her London Olympics security duty. Photo: D. J. Walter.