Report by Iain Ballantyne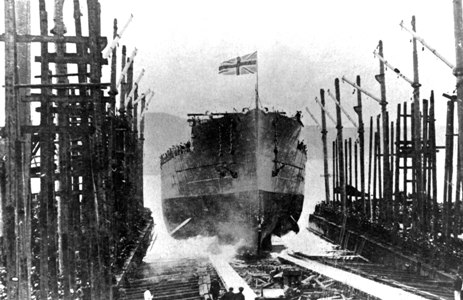 "There are not many warship names that resound across the ages and inspire universal awe and respect, but Warspite is one such. In many ways she was even more remarkable than others that seem to garner greater attention, because she survived two world wars and was very lucky in combat. The battle honours speak for themselves."

With those words Commodore Graeme Little, Naval Base Commander, Devonport concluded his tribute to the most remarkable British warship ever built, on the exact spot where she was created a century earlier.
As the clock passed 3.15pm, a voice sounded loudly across the old No3 slip: '15.15. This is the exact time when Warspite was launched 100 years ago.'

Thirty thousand people had gathered to watch her launch on November 26, 1913, including the First Lord of the Admiralty, Winston Churchill.

A choir sang 'Rule Britannia' just as another had 100 years earlier as the 12,000 tons hull of the soon-to-be-legendary battleship began the short journey down the slip into the broad, slow flowing River Tamar.

Britannia no longer rules the waves but the ghost of those times when the Royal Navy was a colossus – bestriding the globe to provide Pax Britannica – still clings to that corner of Devonport Dockyard in Plymouth from where Warspite was launched on her amazing career.

These days the launch slip is in the possession of luxury boat builder Princess Yachts but on the 100th anniversary it was not hard to imagine the towering bulk of Warspite looming overhead.

Across two world wars she garnered more battle honours than any other single ship in British naval history and across the world remains an iconic warship. HMS Warspite was the brainchild of unconventional, brilliant minds – Admiral Jacky Fisher and Winston Churchill – who had to fight hard in order to push through their super dreadnought revolution.

The Queen Elizabeth Class – the titular ship was launched at Portsmouth in October 1912 – carried main armament guns of unprecedented size (15-inch) and used oil as fuel rather than coal.

The effort to create Warspite therefore stretched all the way from the shipyards and gun factories of Britain to the oil fields of the Middle East, where energy supplies had to be secured.

The creation of Warspite and the other four Queen Elizabeth Class ships was an enterprise of national, if not global importance, involving thousands of people. It also saw bitter battles in both political and naval circles, for the rejection of coal was deeply unpopular in some quarters.

Other factions suggested gambling on such cutting edge vessels was a very bad idea with war clouds gathering over Europe. Even the Royal Navy, at the peak of its power, could not afford to squander resources when engaged in a toe-to-toe battleship construction race with the Kaiser's High Sea Fleet.

Churchill and Fisher – who often argued with each other – pressed on regardless and harnessed the best Britain had to offer, from industry and within the Admiralty, to produce a war-fighting wonder. Warspite and her sister vessels had to work in combat first time out or the nation would be at risk.

They did so triumphantly, despite suffering damage and casualties in two world wars. At Jutland in May 1916 the 5th Battle Squadron, composed of Warspite and three other Queen Elizabeth Class battleships, saved Admiral Beatty's Battle Cruiser Force from destruction.

The Squadron then held the Germans at bay until the RN's Grand Fleet under Admiral Jellicoe could bring its firepower to bear on the enemy, which eventually retreated to its homeports. Incredibly, Warspite and her sisters then provided the backbone of naval defence in another world war.

Warspite, Valiant and Queen Elizabeth were radically rebuilt in the 1930s – another effort of utmost national importance. They found glory and pain, with Warspite scoring several victories -most notably at Narvik in 1940 and Matapan in 1941. She suffered casualties and severe damage while covering the evacuation from Crete but returned to the fray. Evading destruction at the hands of the Japanese in the Indian Ocean she went on to provide naval gunfire support for Allied invasions of Sicily, Italy and Normandy.

This was the substance of the glorious naval story commemorated at Devonport on a chilly November day, with a gathering of naval veterans, serving officers and ratings, plus dignitaries and other VIPs.

For Cdre Little it was a very special moment, for his grandfather was a Royal Marine who saw action in Warspite during WW2. "HMS Warspite is the iconic battleship of the last century," Cdre Little said, "she is extremely important as a reference point to the Royal Navy, the city of Plymouth and Devonport. I am delighted to be able to host the commemoration of the launch of HMS Warspite in advance of what will be a very important period of reflection for the Great War.'' Returning to the significance of the Warspite, he added: "We are celebrating the unparalleled contribution of the greatest battleship ever built."

Tony Elliott, who also served as a Royal Marine in Warspite alongside the Cdre's grandfather, was there to see his old warship honoured. "I'd never dreamed of this day happening," he said. "I am very proud to be here. It is a fantastic day. I have happy memories of the ship."
Mr Elliott is the standard bearer for the HMS Warspite Association and not long before the event at Devonport he had carried out his duties at Marazion in Cornwall. For that was the last resting place of Warspite, which refused to be towed towards an ignominious end in a Scottish breakers' yard; instead she broke free of the tugs taking her there in early 1947.

She ran aground on rocks at Prussia Cove and so they had to start taking her to pieces there instead. In 1950 what remained of Warspite was towed around to Marazion beach where it took a further seven years for her to be completely dismantled.

• WARSHIPS IFR will be publishing a concise chronicle of the fighting highlights of the battlewagon's incredible life in a forthcoming edition. Iain Ballantyne is Editor of WARSHIPS IFR and the author of 'Warspite' (Pen & Sword, £14.99, paperback). He is also proud to be an Associate Member of the HMS Warspite Association.

Pictured Top:
Warspite goes into the water at Devonport.
Photo: US Naval History & Heritage Command.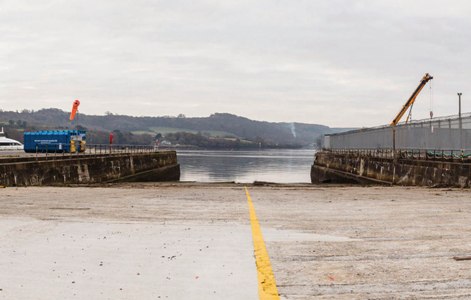 No3 Slip where Warspite was launched as it looks today.

Photo: Nigel Andrews.