by Iain Ballantyne
& Usman Ansari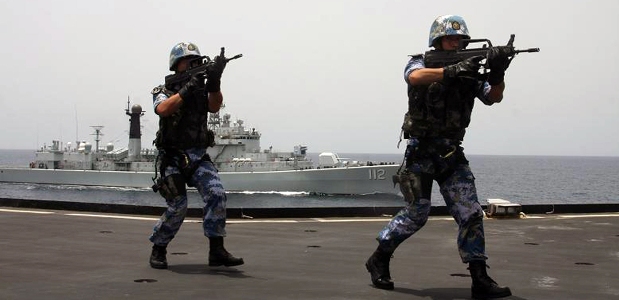 China is extending its maritime defence diplomacy mission into Africa as part of an increasingly ambitious global effort to use its navy for making friends and influencing people.

The provision of Offshore Patrol Vessels (OPVs) to Nigeria and construction of patrol vessels for neighbouring Cameroon is only the latest development for a rising superpower that has massive economic interests already in Africa. A naval task group of three vessels – frigates Yancheng and Louyang together with auxiliary support ship Taihu – called in at Lagos.
The Nigerian and Chinese navies staged a joint training exercise in the Gulf of Guinea, which has seen a sharp rise in piracy in recent years, while the new OPVs are also to be deployed in the fight against the Boko Haram terrorist group.

The four-day exercise included counter-piracy, for the People's Liberation Army Navy (PLAN) has amassed considerable relevant skill and experience due to sending its warships to fight pirates off East Africa. Two P-18N OPVs are being built for Nigeria in China, with the first already launched and christened NNS Centenary. She is expected to reach Nigeria in July. The second P-18N is to be completed at the Nigerian Navy's shipyard in Port Harcourt. China is also going to give a warship to Nigeria.

The visit to Lagos was only the latest venture into the Atlantic by the Chinese Navy, which two decades ago was never seen outside home waters (primarily because it did not have the type of vessels it could send on extended global deployments).

Last September the People's Liberation Army Navy (PLAN) deployed a three-vessel task group – guided-missile destroyer Lanzhou, frigate Liushu and fleet oiler Boyanghou – to Latin America. In November the task group made the first ever visit by Chinese naval vessels to Argentina. Having visited Valparaiso in Chile, the Chinese warships made their passage from the Pacific to the Atlantic via the Magellan Strait and then headed north. They called at Rio de Janeiro in Brazil first, holding joint exercises at sea.

The task group then headed south to Buenos Aires in Argentina. During five days in Buenos Aires, reciprocal visits were held between Chinese warships and Argentinean host vessels, with the destroyer La Argentina and corvette Spiro doing the honours. In conducting such long-distance defence diplomacy cruises and ship projects for friendly nations the Chinese are not doing anything different from other major maritime powers.

For example, this spring the USA handed over the former US Coast Guard Cutter Gallatin to Nigeria during a ceremony at Charleston. It has also gifted other vessels to the Nigerians and their navy already has a former USCG Cutter in service, as NNS Thunder. At the beginning of this year the British frigate HMS Portland visited Lagos and conducted training with the Nigerian Navy.

Meanwhile, Cameroon's modest efforts to modernise its navy have moved a step closer as two patrol boats ordered in October last year from the Chinese company Poly Technologies near completion in Qingdao. Cameroon has a small naval force comprising mainly of gun-armed patrol boats. The Chinese boats will not be armed with anything more potent than a 76mm gun but nonetheless will be a welcome addition to a struggling African fleet.

This has partially at least been made possible due to a loan from a Chinese bank. When also taking into consideration wider military to military links, Cameroon will possibly in future look increasingly toward China for new kit (instead of surplus western equipment).

Closer to home the Chinese are also very active in using their navy to underscore strategically important relations with other nations. Despite strong condemnation elsewhere of Russia for its actions in the Crimea and alleged interference in the eastern Ukraine, the PLAN has been establishing a closer working relationship with the Russian Navy.

A major exercise was held at the same time as a summit between President Vladimir Putin of Russia and Chinese President Xi Jinping. The two countries agreed a massive deal for Russia to supply China with oil and gas to fuel its burgeoning economic might. The two presidents also agreed on what the Chinese defence ministry later described as an 'important consensus on strengthening all-round strategic cooperation' including more in-depth military training, joint defence technology projects and combating terrorism.

Both President Putin and President Xi Jinping launched the naval exercise while they were in Shanghai, which was also the scene of a major summit for Asian states.
During the Joint Sea 2014 exercise, staged in the East China Sea, a six-vessel Russian contribution from the Pacific Fleet was spearheaded by the missile cruiser Varyag, Anti-Submarine Warfare (ASW) vessel Admiral Panteleyev and assault ship Admiral Nevelskoi. A Russian naval Special Forces unit and helicopters also took part.

The flagship for the half dozen or so Chinese naval vessels involved in the exercise was the destroyer Zhengzhou – and drills included live firing with main guns.
The frigate Harbin and at least one Chinese Sovremennyy Class destroyer were also on the gun line. There were ASW and SAR serials in addition to board and search training.

The Russians have expressed a desire to hold similar joint naval exercises with the PLAN, but hosted by their Baltic and Black Sea fleets. If they should go ahead it will bring Beijing's naval task groups into other parts of the world where China's naval ensign has rarely, if ever, been seen before.

Pictured:
Top – Chinese marines on a training exercise during anti-piracy duties off the coast of East Africa.
Photo: Via NATO.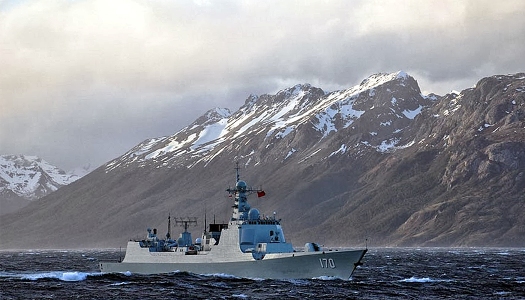 The Chinese guided-missile destroyer Lanzhou cruising through the spectacular Magellan Strait.
Photo: Chinese defence ministry.